Damn I wish I knew that I bought some today ffs
well…if it was today, you could ask Brux if he can apply a HFG promo retro-actively

I just placed an order for a few custom cables today. Really hoping they will apply the code retroactively as I read this an hour after paying my invoice!
well, let's @brux and get his attention and see what he says!

Oh man you guys are putting me on the spot! We do not currently have a code for HFG. It was just something where if we knew the inquiry was coming from here I'd (past tense I guess. Mostly Hannah does this work now) try to remember to manually apply a small discount for HFG members.
I should make a code tho. Something that can run every so often or something. Idk. It's hard cause there's no way to make sure only HFG members use it. I'll see about coming up with something!
Here's my amatuer review of the Zen Dac. I'm still working on a good format for amp and dac reviews. Feedback encouraged! Enjoy!
INTRODUCTION
I bought the Zen Dac a few weeks ago after hearing what the iFi Hip-Dac's X-Bass bass boost did for the Focal Elegia. That bass was addictive, if just a tad uncontrolled at times. 'What would this bass boost be like through an amp like the Asgard 3, which has power to burn?' I couldn't help but wonder. Checking Amazon points, I realized I could snag a Zen for about half price. Well, who can ignore that?
The Zen Dac is technically an amp-dac. It can drive headphones/IEMs from either is ¼" headphone jack or its 4.4mm pentacon balanced headphone jack. I will be focusing on its DAC capabilities here. I did try its amp section very, very briefly, and thus will comment on it equally briefly. Alright, let's get to it…
FEATURES & BUILD
The DAC section is built around a Burr-Brown delta-sigma DAC chip. The Zen features both RCA unbalanced and 4.4mm pentacon balanced line outputs that are switchable between pre-out and fixed output. The former allows for the Zen's gain adjustment, bass boost (called TrueBass here, for some reason), and volume control to all pass through the output into an outboard amp. The fixed mode bypasses all that and sends a fixed-level signal to an outboard amp. That means the TrueBass can only go through an outboard amp when the DAC outputs are set to "pre". Outside of briefly checking out the fixed line-level output, I pretty much exclusively ran with the DAC outputs set to "pre" because the bass boost is really what I was after here. The Zen decodes basically all the audio formats you could care about: up to 32-bit/384KHz PCM, RidiculousX DSD, and even MQA. I no longer use Tidal, so I did not check out MQA functionality.
The build quality is pretty good. For a $130 unit everything is solid. I won't comment too much more here because there is not much more to say.
The Zen has only a USB input. It's a USB 3.0 type B connector. The input options seems to be one area where iFi did make some concessions to keep the price at $130. I have heard that iFi gear generally is built around and sounds better through their USB input than optical or SPDIF, if they offer such. I can't confirm this but it is something to keep in mind. However, this does limit its functionality to a degree. I run a multi-dac setup on my main rig. This allows me to set my PC motherboard's optical output as the primary audio device. Then, I can use music apps like Foobar, Audirvana, MusicBee, Tidal, Qobuz, etc. to select a USB dac to run exclusive mode. I have switchers and splitters so that all I have to do is push a button to listen to a different signal. That way I don't have to shut down exclusive mode, switch audio devices, switch back, restart exclusive mode, and so forth if I come across a YouTube video or something I want to check out. Having only one input type makes if much more difficult to integrate the Zen into such a setup. iFi, I'm sure, cut out the option of one or both of optical and coaxial so they could include an amplifier and offer balanced topology, plus MQA decoding at this price. IMO, the Zen would still be an attractive option at ~$180 if they had included those things too. In addition, SMSL, and even Schiit with the Modi 3, figured out how to get USB, optical, coax – and in Schiit's case even have it made in the USA – all for under $100. So, come on, iFi. And this single input is a problem BEFORE any potential USB noise, which it turns out, I've been struggling with lately too. Thankfully, I did eventually figure that out, but having the option of optical in particular could really help here.
A couple more quirks: the Zen is USB powered as well. Mine shipped with a USB-to-5V adapter dongle that's stupid short. Also, the stock USB cable is stupid short: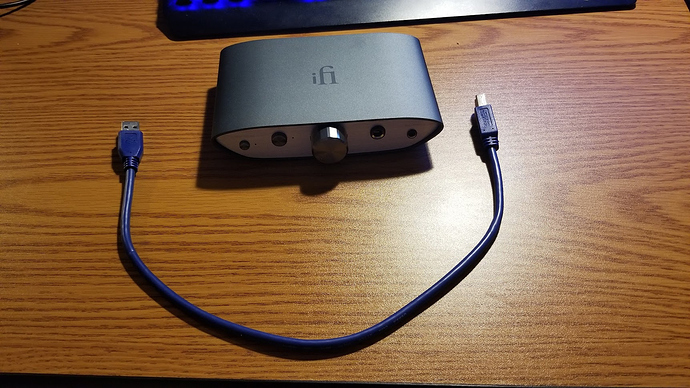 That is not a desktop-computer-friendly length. That length implies iFi sees this unit being used on a laptop. And that's where the next frustration comes in. When connected to my Surface Pro 4, the unit never powered down, even when the Surface was closed. Other users here on HFGF have complained about the Zen never powering down either. After buying a longer USB cable and connecting it to my desktop, it did fully power down when the computer fully shuts down. Don't connect this to your laptop and then walk away for long periods without plugging your laptop in. It will drain the battery.
Sum up all these features and quirks and you get a device that is very well thought through in some areas and very poorly thought through in others. The TrueBass, balanced outputs, and Burr-Brown chip are attractive and unique options at the price point. The included cord lengths, power management, and USB-only input are not minor failings, IMO. Know these things if you're thinking about checking this unit out. But as we all know, the most important factor is the…
SOUND
Overall Impressions
The TL;DR version here is the Zen really sounds good. When you're talking <$200 DACs, differences are subtle but present. The Burr-Brown implementation is a bit smoother than most other delta-sigma implementations in the price range, especially ESS implementations. There's a touch of warmth and smoothness that many other similarly priced DACs that I've heard don't have. The Zen is able to do this without sounding sloppy or like its blending things together too much; there is still pretty solid instrument separation. Spatial recreation also seems to be just a bit ahead of the other budget DACs I've heard too. However, the warmth and smoothness does come across as a bit colored in comparison. The overall coloration here is not nearly as noticeable as with the Hip-Dac – which actually surprised me a bit – but it is there. Still, if you're after neutrality at the price point, this is probably not your solution.
Where's That Treble Roll-Off?
After hearing the Hip-Dac I expected the Zen to roll off the treble more than it does. The Hip-Dac is more colored, warmer, and has a more aggressive treble roll-off. I was pretty surprised when I switched back to my SMSL SU-8 after listening to the Zen for quite a while. The SU-8's treble really did not come across as any more forward or aggressive – and it arguably should have being an ESS DAC. This surprised me and required more digging.
I A/B tested the Zen against my SU-8 using both balanced and unbalanced connections through my Liquid Platinum and my Asgard 3 amps trying to get a handle on this surprising treble result. I used my HiFiMan Edition X V2, Focal Elegia, Beyerdynamic DT-880 600Ω, Fostex + Massdrop TH-X00 Purpleheart (and some on the newly Lawton upgraded X00) as the headphones. Quite consistently across all amp and headphone combos I found the Zen to be slightly warmer and smoother through the mids and bass, with the SU-8 sounding more detailed and controlled overall, and – I genuinely did not expect this – the Zen being more sibilant with sharper timbre in the treble. This utterly shocked me. Burr-Brown implementations, iFi's included, are generally known for a smoother and more laid-back sound. ESS chip implementations have earned the description of 'analytical' and even the phrase "ESS esssses" for sibilance and sharp treble. It was just so consistent here, though: the SU-8's treble had better timbre on cymbal crashes and the upper ranges of instruments and was less frequently sibilant. Some of this might be because the SU-8 was initially a $250 DAC and arguably higher tier (Drop occasionally sold it for $200). Even so, I've heard from multiple sources, including my own ears, that the SU-8 still succumbs to ESS 'esses.' The SU-8 does still have sharp sss sounds, but the Zen has them more and generally has a tinnier, sharper timbre with cymbal hits. I also want to be clear that this is not a huge difference and is in no way a sonic dealbreaker for the Zen to my ears. The Zen is not a poor performer by any stretch of the imagination. I still had to write about this though because it is so different than what I expected. As with all things audio, YMMW.
So What Does the Zen Do Well?
It has a really smooth, supple, natural midrange and bass timbre. It's coloration actually gives it a more natural, if not technically neutral sound, than the other DACs I have on hand save the SU-8. It images better than my other DACs, save the SU-8, and the spatial capabilities between the Zen and SU-8 are close to dead even to my ear.
But that bass boost…Oooooohhhhhh yyyyyyeeeeeaaaaaahhhhhhh. I don't know what secret sauce iFi has mixed up for their bass boosts (which oddly go by different names), but they're doing something right. The TrueBass here significantly boosts bass and sub-bass without bleeding into the midrange and generally messing up everything else. The Elegia and the DT-880 benefitted the most here. They both really took well to the TrueBass when piped through either the Asgard or the Liquid Platinum. IMO, those two headphones, with stock tuning, are better suited to acoustic music like classical and jazz. I enjoy that music, but I will always be a rocker first. With the TrueBass, both these headphones really warmed and gave that bass punch that rock and metal really need. EDM and hip-hop also come to life more. What the Zen does with this TrueBass and the right headphones, is give you more than one headphone per headphone. Want great acoustic timbre? Leave TrueBass off. Want big time bass extension and slam? Turn on TrueBass. The Zen takes the Elegia and DT-880, which I would describe as specialists with stock tunings, and turns them into generalists. That's not nothing.
Well Balanced
To my ear there is a very subtle difference between the balanced and unbalanced performance. In fairness, I can't do a direct test here because I don't have a single amp that performs equally well from both its balanced and single ended inputs. In fact, such an amp probably doesn't exist. Suffice it to say that there is not a night-and-day difference between the balanced and single ended DAC outputs of the Zen. The balanced output is wider and slightly cleaner, but that is probably mostly amp differences. The biggest advantage using the balanced output was eliminating the USB noise that was plaguing my system for awhile (I eventually pretty well licked it with an inline ground loop isolator placed between the SE switch and the Asgard). This narrow difference stands in contrast to iFi's Hip-Dac, which does perform noticeably better via its balanced headphone output than it does its single ended.
The Zen As an Amp
As good as the Zen sounded as a DAC feeding the Asgard and then into the Elegia, plugging the Elegia directly into the Zen's headphone output was not a pleasurable experience. That pairing was harsh, compressed, aggressive, and metallic sounding. Oddly enough, plugging the Hex V2 directly into the Zen sounds pretty good. It's not as good as going through the Zen and Liquid Platinum or Asgard, but it's pretty solid. I don't know why the Elegia and the Zen didn't play nice in this way, but it's worth mentioning. Truthfully, this is about all the testing I did with the Zen's amp section. I'm just not personally interested in using it that way.
FINAL THOUGHTS
The Zen Dac is a fine dac that comes with a probably-ok-for-most-headphones/IEMs amp and performs at or slightly above its $130 price tag. It is not without its quirks. The included cords are too short, it can drain a laptop battery when not in use, and while some may disagree, I think the USB-only input is a limitation. The TrueBass is fun addition for some headphones, though, and very well implemented. For just pure fun, it will be hard to beat the Zen + Asgard 3 + Elegia with TrueBass enabled for the price that the combo can be obtained right now. The overall sound of the Zen is smooth and warm and unique in its class. That warmth can mask, but not hide, a slightly harsh treble. However, that treble harshness is not out of line for DACs in this price range. It's difficult to give a blanket recommendation for the Zen DAC. However, if you like its sound signature and have headphones that play nice with a bass boost, it should definitely be on your radar screen.
could your issues with the Zen and Elegia's be attributed to the headphones just not pairing well?
It's clear to my ears the Zen's amp and the Elegia didn't get along. I don't know why. To my ear the sound was harsh and metallic, but I don't know what about the Zen's amp and Elegia's driver don't like about each other. Still, sticking an outboard amp in between and using the Zen as a DAC is

I find that kind of odd. Aren't the Zen Dac and hip dac really similar in sound signature? People over on the Elegia thread were loving the hip dac + elegia, especially with the bass boost.
I agree with you on the oddity part. I was really surprised that the Elegia didn't sound great with the Zen's amp. The Hip-Dac + Elegia is a really good combo. The only thing I can think of here is that the Zen and the Hip-Dac actually have different amplifiers. That's not crazy, the Hip-Dac actually has higher rated power than the Zen. The Hip-Dac definitely has a detectable high frequency roll-off too, which I did not notice with the Zen. I literally just tried it again with the Elegia plugged directly into the Zen. At low volumes it's fine, but as soon as I start turning the volume up the mids start to get really peaky, shouty, and break timbre.

I am diggin' the ZenDac. I think that If I would have got this originally I might have been at an "end game" point, coupled with a set of Edifier R1700BTs and X2HRs. However, that is not how it went

Hi guys, quick doubt over here, will I be able to use the zen dac's rca out to my powered speakers and the 4.4 line out to a headphone amp at the same time?
I would like to control the speakers volume with the zen dac and the headphones with an external amp.
Yes you can. All the outs will operate at the same time (both rear and front headphone jacks).
If you set the switch in the back to "variable", the knob will control the volume outputs.
However, it will control all volume, so be aware if you have it at high volume to speakers, then use your headphone amp.
I like them a wee bit more than the FiiO K5 Pro I have now. Sound impressions me as the same, but that bass boost… who knew AD900x can actually thump and rumble. Felt good to touch as well.
But I really wanted more input options, so I returned the Zen and got the K5 Pro. I have to say having 3 gains settings, an actual power-off switch, and input toggles are very handy. Still miss the bass boost button.
Thanks for the quick reply, buying rn. Just need to choose an amp to pair

I have read that the Zen Dac did not pair to well with the Elegia, but how wil it pair with the ELEX. I currently have a LS and no dac. Using the audio out on my monitor as my PC is noisy. How will the Zen compare to the LS coming from lets call it onboard. Thanx
You may have heard that from me…to be clear IMO it is the AMP section of the Zen that does not do well with Elegia. However, the DAC section of the Zen routed through another amp to power the Elegia sounds just fine. If you used the RCA output of the Zen DAC to feed the Liquid Spark, then used the Liquid Spark to power the Elegia, you'll likely be quite pleased with the result.
I don't know how the Elex sounds with the Zen. That's a combo I haven't been able to try yet.
I'm considering this for a dac/preamp combo and I have a couple of questions:
Does the true bass work in fixed mode
Does the line out act as a bypass for the amp? Just wanna use the dac section
does the line out on fixed output work with true bass?
No
Yes
No
There's a switch on the back of the unit to toggle between preamp and line out outputs. The volume control, TrueBass, and gain control are all output when pre is selected. None of them are when lineout is selected.
Wait, so I want to connect this to my aune b1s to utilise the class a processing, but would like to use the dac, truebass and a bit more power. Will that work on preamp mode?