Audirect Atom 3 Impressions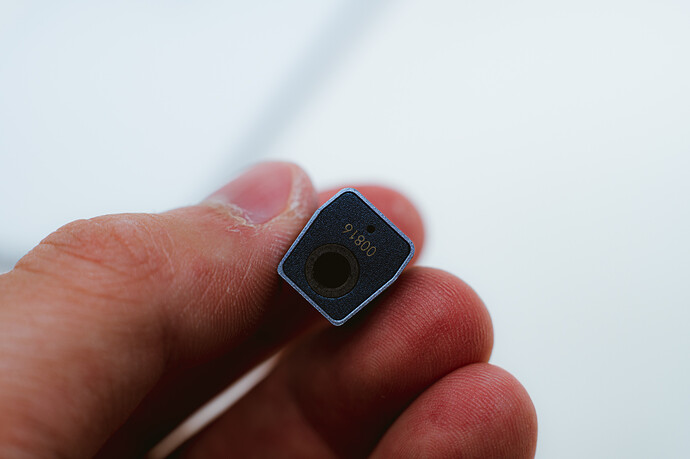 DISCLAIMER:
I received the Audirect Atom 3, an ultra-compact DAC/AMP combo with a 3.5 mm single-ended output and ESS9280AC PRO DAC, from ShenzhenAudio in exchange for my review. This unit costs $46.99 at ShenzhenAudio.
HEADPHONES:
I tested the Audirect Atom 3 with the following headphones:
Moondrop S8
Kiwi Ears Orchestra Lite
Dunu Vulkan
SeeAudio Bravery
Moondrop Void
HiFiMan HE400SE
MUSIC:
I tested this device with FLAC local files and Spotify Premium streaming. Check out my last.fm page to see what I'm listening to:
XenosBroodLord's Library | Last.fm
STANDARDS COMPLIANCE AND FUNCTIONALITY:
Unlike many other USB-C dongle-style DAC/AMPs, the Audirect Atom 3 correctly implements headset controls, pause on headphone disconnect functionality, and connector status transmission to the host device.
POWER DELIVERY:
With the Audirect Atom 3 and the Moondrop S8, I achieve a roughly 80 dB listening volume at a Windows system volume setting of 34/100. To reach the same volume with the Moondrop Void, I need to adjust the system volume to 40/100, while the HiFiMan HE400SE requires a setting of 70/100.
POWER CONSUMPTION AND HEAT MANAGEMENT:
I measured the power consumption of the Audirect Atom 3 connected to my PC with the Windows system volume set to 84/100. The Atom 3 was used to play a -12.1 dBV 1 kHz test tone from REW through the Moondrop S8, while the measurement below was taken. This level of output achieved an SPL of roughly 94 dB, as registered by my IEC-711 clone microphone.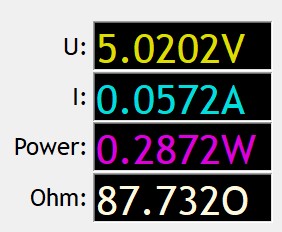 The Atom 3 does go into an idle mode when no sound is being played: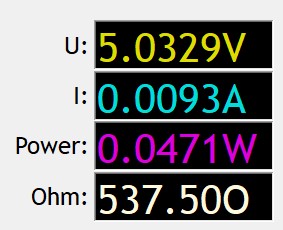 The Atom 3 has excellent heat management and does not get warm to the touch even with prolonged use.
SOUND:
Note: I made the following observations switching back and forth between the Audirect Atom 3 and the Apple dongle repeatedly under sighted conditions. I attempted to volume-match the two devices were volume-matched to within .5 dB. Any perceived differences between the two sources may be a result of a remaining volume difference. There was also a delay of several seconds when switching between devices. The HiFiMan HE400SE was used as the transducer for this comparison. In most cases, any differences between competently designed sources are infinitesimal and not necessarily apparent under uncontrolled testing conditions.
I also made the following observations with a system-wide -4 dB pre-amp setting as suggested here. While I recommend using this pre-amp setting to preserve fidelity, it does reduce the headroom of all connected source devices. Using the Audirect Atom 3, I achieved my regular listening volume with the Windows system volume set to 86/100 with this pre-amp setting applied. I had to max out the Windows system volume control using the Apple dongle to achieve a similar volume. On Android, meanwhile, it is not possible for me to achieve my regular listening volume with the Apple dongle and the HiFiMan HE400SE thanks to the Apple dongle's limited output on Android.
The Audirect Atom 3 was more resolving and had better treble and bass extension than the Apple dongle. Its soundstage was more open and the instruments and vocals had better separation. The Apple dongle sounded comparatively thin and flat. With that said, if I had to assign an arbitrary numerical value to the subjective sound quality improvement moving from the Apple dongle to the Atom 3, it would be no more than 15%. When considering this figure, I encourage my readers to keep in mind that the Atom 3 costs five times as much as the Apple dongle.
CLOSING WORDS:
Unless you need the Audirect Atom 3's low-profile unibody design, there are more powerful dongle DAC/AMP options around the same price. It also bears repeating that your money will almost always go further when put towards a more expensive transducer as opposed to a more expensive source device.
The Audirect Atom 3 can be purchased here:
Audirect Atom3 ESS9280AC PRO Chip Support DSD512 32bit/768kHz HiFi Po (shenzhenaudio.com)