Could put the cat amongst the Pigeons in the $100-200 price range?..
He certainly likes them although no mention whether they have a wide or intimate sound stage.
Following these for sure. Not crazy about the two "color" options but I would still wear the wavy glitter latté art one and not feel ashamed. I want to hear a few more people weigh in but I'm wondering if these would be a next step up from my Shozy 1.1. He didn't actually give much sound description in the video which is hilarious. Gotta love that no script approach.
I ordered a Mystique pair from the Linsoul website on April 10 but no word yet on when it'll ship. I sent them a message about a week ago around April 12 and they said it would ship "around two or three days" but the tracking still only says that the order has been confirmed. Can't wait to try them out. Replacing my Shouer Tapes that I really like but have terrible QA. I sent back the first pair and now the second pair after couple months has the left ear starting to get ever so slightly muffled. It's really annoying.
I would email them. I ordered the L3 through their eBay page; purchased in the morning last Sunday 4/12 and received a confirmation number that same evening. My package is en route to California as of 4/18. I should get it by Wednesday.
Good idea. I just messaged them and they said DHL will be picking them up this Wednesday. Can't wait. I hope they're better than the tapes, at least in terms of QA, but hopefully audio as well.
Better tan blon Bl03 and urbanfun ybf?
According to BGGAR yes. If you liked the sound signature of the BL03 then you'll love the L3. Got mine ordered.
I love blon bl 03, I tried them without doing the mod of tips and cable and I liked them a lot, too bad I don't have them.
Now my doubt was to go for some blon+cable+types with everything included for less than 50 euros, go for the urbanfun for 55 or give an economic effort and go for the Legacy for 110 euros.
I don't have it clear, because the urbanfun I have heard that perhaps they are above the blon but they have reported several problems of quality.
Yeah BGGAR won't officially rate them because of QC issues.
I've done the BL03 mod thing (spinfit tips/ TRIPOWIN C8) and it really is great, the value/permance ratio is insane as long as you are OK with the fit.
Personally I wouldn't touch the Urbanfun, the QC issues sound nasty if you get them.
I'm really gonna see about these in custom, the price is so good, I just want to see what I have to do to get them what they need for that. If there is a lot involved I'm snagging a sony first, but these are on the list!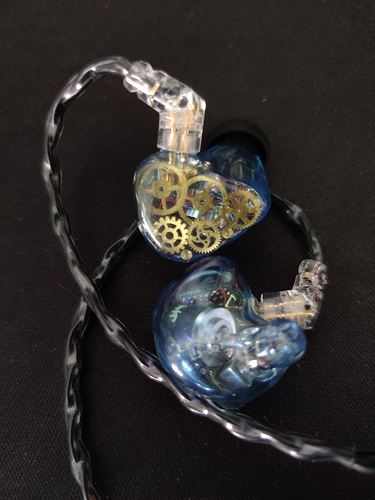 Just got mine ordered 9/4 model number 007 i think? in clockwork ver.
Im new to the audio game with only a pair of BL03s and sony ex800st's and in the first hour of listening im really liking the sound signature of DOWN-DOWN dip switches.
They look lovely and very unique, got the same on order but probably 1 month away from delivery sadly although they have shipped.
I have both the BL03 and the Urbanfun IEMs and although they are a bit different where the mids on the urbanfun seem more prominent. Maybe even a bit lighter in bass but overall I really like them. They may technically be a better pair than than the BL03 but I think my mood and music choice dictates which I like better. Both are really good for the price of entry.
Mine were delivered today.
Initial thoughts are:
Treble can get a tad bright (to my ears anyway) with anything other than the default (down:down) settings but set this way its a very smooth sounding iem.
I could imagine long sessions with them without fatigue and the shell size is small enough that they may be "sleepable" which is a bonus for me as i do a lot of listening late at night.
These vs the moondrop starfields? Getting either of these as my first good IEM's but not sure which is the better choice.
t3 since you have a bit more options by dip switching
Unfortunately already ordered the legacy 3's, but thanks for the reply