My budget is 1200 euros. The main usage of the system is for daily TV, Netflix, Spotify, and movies. I listen to all kinds of music. I would prefer a flatter to warm sound signature. My living room has 35m2 and my listening position is 2.5 meters. The room is untreated but has some absorbing materials like a rug and a big couch in front of the speakers.
I have at the moment a pair of Kali LP-6s connected directly to the TV at the headphone jack.
My first question, would be a good thing to move from the headphone jack to something like a Topping E30 so I could use the optical output from the TV and in theory a better DAC? I don't know if the TV is messing up with the sound as it may be applying some EQ thinking that the audio is really being used at a headphone.
Second, I thought of upgrading my LP-6 to Kali In-8 second wave. The price difference is 2.6x more. But given that I quite like the sound signature of the LP-6 this upgrade has any value as I don't play too loud? The main difference that I saw from the specs and tests from these two speakers is the capability of playing louder without distortion, the sound signature looks the same. Am I correct to assume this?
This is the Spinorama comparison. The In-8 has more bass, but I don't know it's worth 2.6x the cost.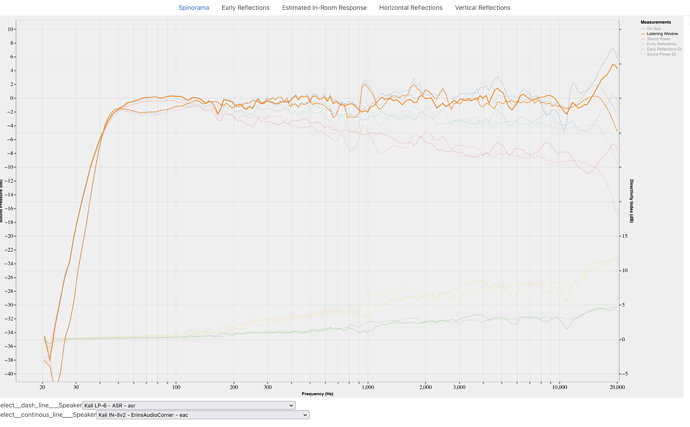 I quite like active speakers but I'm completely ok going passive. The thing that I'm avoiding is using complex AV receivers. I much prefer audio quality over features. All my devices are connected directly to the TV and I'm ok with that. If it has an optical connection and a remote control it's ok for me.
I don't know if I want a sub right now mainly because I live in an apartment, would have to treat the room, and or acquire equipments to do proper measurements and equalization, but I don't exclude this idea in the future.
---
This is what I'm thinking at the moment:
Do nothing and keep 1200 euros at the bank
Keep the Kali LP-6 and add a Topping E30 - 140 euros
Kali In-8 2nd wave + Topping E30 - 940 euros
Kali In-8 2nd wave + SMSL M300 MKII (to use the balanced connections) - 1070 euros
ELAC DBR62 + IOTAVX SA3 - 963 euros
Any other suggestions?