Just wanted to make a space for dropping thoughts and opinions on new and old albums
I want to start it off with this album as it's the newest and most listened to for me over the past week since it dropped.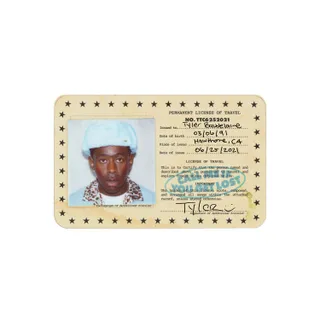 Im a big tyler the creator fan. Coming off of igor (which won him a grammy) and flowerboy it is somewhat refreshing for me to see him go back and revisit the same flavors as his old mixtape days with the maturity and level of knowledge he now posses after 2 of his best albums. taking a step away from concept albums and deeply emotional songs. to more absolute bangers and awesome colabs with other artists.
the album starts off rough for me with oddly mixed songs and hard to get used to DJ Drama hyping uup the music which I eventually began to appreciate especially when the songs called for it and aspect of fellow artist's Kendik Lamar's last album DAMN, that I also appreciated over time. Dj Drama's presense to me is a great addition as it makes me try to have fun with the music unlike trying to dig deep and listen to the stories in igor and flower boy where tyler really showed his emotions and and showed off his ability to drop a concept album. the first 3 songs are rough for me to listen to.
Sir Baudelaire : is a weirdly mixed song where tyler's voice is too far back but serves as a fine introduction to the characters and flavor of the album just like with Igor's theme on igor , or foreword on flower boy.
Corso: Tyler's voice again is too quite, DJ Dramas presence is really fun. again my main issue with this song is the mixing th ebeat iself is fun and super hype. Tyler in this song is talking about his influence around people around him and how his sucesses have been affecting his relationships and him mentally. its a somewhat deeper more insightful song hidden behind a really hype super fun bassy beat with additional energy carried by DJ drama.
Lemonhead: A song Featuring 42 dugg and frank ocean on the outro. again another oddly mixed song. this to me is the weakest song of the bunch. its a very braggadocios song. both tyler and 42 dugg who's performance was in a word kinda bad. like he seriously does not need to be in this song. Ill take 3 more minuttes straight of dj drama over this shit. any way its just a song where both tyler and dugg just flaunt their wealth. but capped off by an awesome outro where Frank Ocean and tyler sing the albums name over a dialogue tyler is saying and is a nice transition into the part of the album to me just improves significantly.
I just wanted to review these specific songs causeI just wanna highlight my least favorite songs. of the album.
To me the end og Lemon head is where the album really starts. startign with a cute song about tyler trying to pick up a girl he just met who happens to be taken with a pretty decent feature with ty dolla sign. its a more melodic less banger of a song than the previous 2 which si a great way to break up the album and prep the listener to lumberjack. Another song where he is bragadocious and talks about his wealth while talking to his haters done over a agressive beat. song is very reminiscent of his old days but this time with better much better writing again from his maturity from his last 2 albums. Hot wind blows is another song I wanna highlight mainly because Little wayne really showed up on this song. with one of the best features I've ever heard him on.
Manifesto is a song where tyler addresses his past. the controversial topics and lyrics he would talk about and write. how he tried to change, explaining what was happening in his past.
another song I wanna highlight is Sweet/ I thought you wanted to dance a nice long song that brings you to the third and final part of the album the last 6 songs in this 16 song album where a different energy shows up, a bit more personal more hopeful less angry energy where a track called Momma talk shows up where its a recording of Tyler's mom that honestly explains a lot about tyler's upbringing and where he gets his unique personality from. Rise is a super fun really exciting song featuring daisy world Daisy world. This song also features one of my favorite verses from tyler in the second verse where he really flexes his rap muscles.
Juggernaut is another song I really adore featuring a great lil uzi vert verse as well as a great pharell williams feature.This song to me really ties the whole album together. Bringing Back the grimy production of the album along with the fun bassy beats. with similar braggadocios themes from the beginning of the album, putting a banger among the more hopeful and vulnerable part of the album.
Willshire is a dense recorded ina single take by Tyler telling a story of a failed relationship he seemingly was involved in.
to me this Album reminds me of Kendrick Lamar's Damn. while not objectively as good as his previous works where he drops a very vulnerable album followed by an awesome grammy winning concept album. he drops an album filled with songs where he agresses his wealth, his sucess so far, his, fans his haters, while also being very tyler. overall I really appreciate this album and will be looking forward to how tyler evolves from here on out.
Great idea for a thread!
I still have not checked out the new album, not sure what I am waiting for.
definitely check it out its a really great album if you are a general fan of tyler. its a nice revisit to his old style
I always like to see what he has in store next. Very interesting artist.