My parents have tasked me with selecting the components of our first "real" audio system. They have no idea what kind of system they want - they couldn't even tell me if they wanted 2.1 or surround sound. I need some help to put together a system that will impress them enough to actually give a damn about audio.
2000€ is the absolute limit, I only want to go that high if it provides a noticable difference in audio quality.
I already own a cheap sony 5.1 receiver and some super low end bookshelf speakers which I might be able to use as rear channels.
The audio system will be connected to our TV in the living room and it will be used for both movies and music. The room will be renovated soon. I don't think they will agree to putting up any kind of acoustic treatment, but if you have any tips about making the room sound better, please let me know. After the renovation the room will look something like this: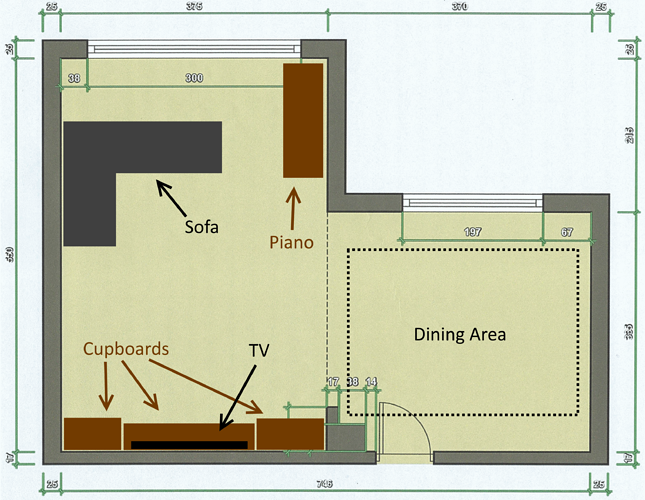 I can't think of any place where i can put tower speakers. The cupboards in the front are about 1.5 m tall, is it ok to put bookshelf speakers this high?
The position of the sofa makes a 7.1 or 5.1 setup quite challenging. I thought about trying Zeos' trick of bouncing the sound from the side channels off the walls and ceiling so that the person sitting on the right doesn't have a speaker next to their ear. Has anybody tried this?
I'm not quite sure what speakers i should choose and whether i should go with 5.1, 4.1 or 2.1.
The Klipsch RP-600M and 600C have caught my eye, but the high directionality of the horn might create some problems combined with the suboptimal position of the speakers.
If i abandon the center channel and go with 2.1 or 4.1, the KEF LS50 look like a good choice. I can probably fit a more powerful receiver into the budget that can deal with the low efficiency.
I think a sealed sub is the best choice because of the fast transient response. The only cheap one I could find is the SVS SB-1000, I have no idea if it's loud enough for the room.
Please tell me if you know of any speakers that might work in this situation.