Like most of us here, I needed another audio gadget like I needed a hole in the head.
But for whatever reason this new Audirect Atom 2 dongle intrigued me for it's tiny form factor. DDHiFi makes something similar… but this one does MQA! (sarcasm, I know you don't really care). I decided to roll the dice with $80 and see if it was worth it.
For those who have no idea what this is here is a link to one of the sellers product pages:
It arrived from China today so I plugged it into a few of my different Apple devices (went with the Lightning one). It fits great with my old iPhone XS that I have a battery case installed on and use just for music. Here's a poor picture…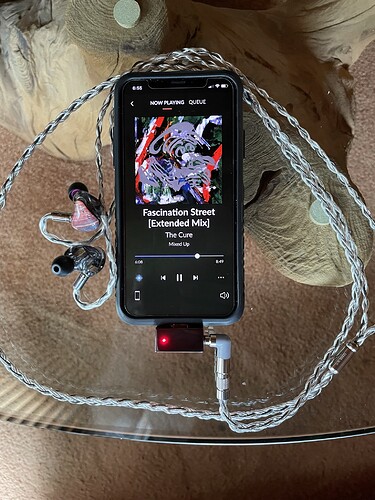 I first listened with my KPH30i's. Hey this thing sounds pretty good

. Next I plugged in my Dunu SA6's. Man, details soundstage no hiss this is really a killer little DAC for $80. I've owned the AQ Red and Cobalt and this is better. I've also been enjoying an L&P W2 for several months now and this little thing competes with that! Seriously. If you have a few extra bitcoins to throw at some more portable audio gear this thing is worth having a listen to.