Hello all,
I am starting this topic in order to share thoughts about this beautiful, capable and affordable class A balanced headphone amp.
I bought this amp a few months ago when I watched the Z reviews video and was on sale for 190 euros at a local store.
When I bought it I have in mind to drive a planar magnetic headphone and I was searching for a well build and relatively cheap amp. After trying some low impedance planar cans and some around 50-80 ohm through 1/4 output, I was not quite happy and I was about to return it. Until I listened it with the 300ohm Sennheisers… Then it was that thing shined really. After making a little research why this was happening I found out about the term ''output impedance'' and how important this is to a headphone amplifier. Considering that this amp has an output impedance around 11 ohms it was kind of expected to match well with the higher impedance cans (As per NwAvGuy Blog ; THE 1/8th RULE: To minimize all three of the above problems, it's only necessary to keep the output impedance less than 1/8th the headphone impedance. Or, put another way, just divide the headphone impedance by 8 to get the maximum output impedance without potential audible degradation).
The balanced output vs 1/4 is day and night in terms not only power but also soundstage openness and body. Noticed also at 1/4 a roundness to the highs which was very annoying to listen (not extended highs).
The amplifier has also variable RCA pre outs at the back to run studio monitors which are not selectable and outputs along with the headphone output. Running my Yamaha HS8 from this, I noticed the class A ''fullness'' but I would not recommend it because the sound character of the rolled off 1/4 in front is following the pre outs as well.
So as from my experience in general a conclusion:
Highly recommended for 300ohm headphones
Be careful your DAC (or source) output to be not lower than 2volts in order to have the full power potential
The amp gives the 100% at XLR balanced output
The headphone output of my RME DAC is clean and perfect but AUNE class A adds something more that is so enjoyable to listen to
I would like to hear the thoughts of any proud owners too!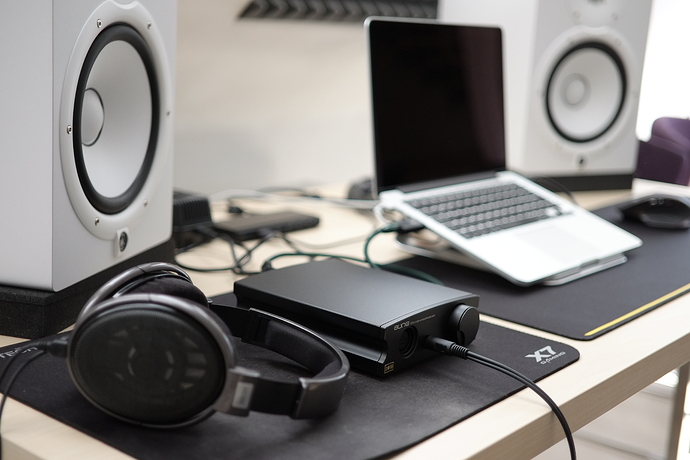 AUNE X7S review Z Reviews