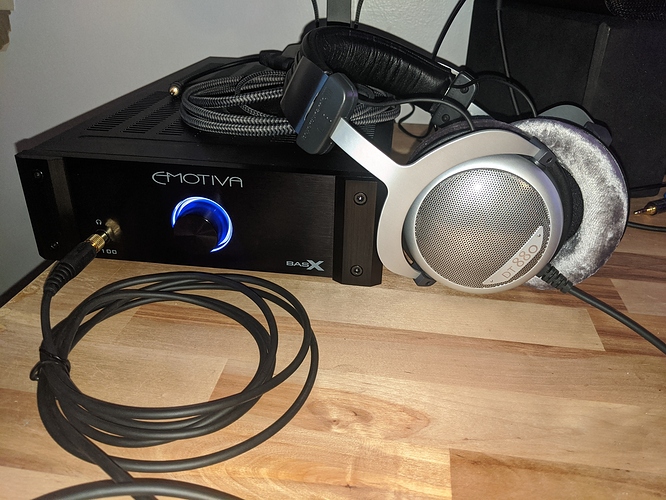 I will start off by saying my current setup is (was) Topping DX3 dac/amp to Focal Elex or DT1990 depending on my mood. I had turned more towards the 1990 however as with eq I still got the warm harmonic like sound with more detail and separation and they just felt better. I have tried headphones up to ZMF Verite (about $2k new). I had since obviously gone for around $300-500 headphones switching between 2-3 depending on my mood that day.
I purchased the 880's after seeing DMS and Z's reviews of them and really started like to like them. Typically, my Topping DX3 sits at around -22db with the focal and about -18 to -20db with the 1990. The 880's dont be come really listenable until about -8db and even then its still really low. I switched between 880 and 1990 and it would honestly be a toss up between the 2.
Just today 6/21 I got my Emotiva BasX A-100 and its is a complete night and day difference. Everything is just so much better on the 880 now. Every song I throw at it is probably the best version Ive heard of that song with any headphone. I am very likely to sett at this being endgame for me at about $600 (880s=$150/amazon, BasX=$275/ebay- out of stock everywhere else, DX3=$200ish/amazon).
Bass- punches pretty deep with a nice decay
Mids- clear, detailed, natural
Treble- detailed, not sibilant. A little of a sharp S but easily eq-able but going to give more time before I do that
Separation- Great
Soundstage- not too wide, not too narrow; perfect
Imaging- Amazing
Comfort- pads are like pillows around my ears, headband could use more padding (may pick one up at some point)
This is also my first time with a class A/B amp (I have had stax amps before as well but cant really compare with dynamic headphones). The BasX is definitely doing some heavy lifting to give the 880's every chance to shine and they absolutely do. Likely will be selling all my other ones from here and maybe keep 1 for portable use. Note- I also have a rca out from the BasX to SA-50 desktop amp to RB42x on my desk. Extremely happy with this setup.
Edit: Using oratory1990 eq profiles ("new pads" for 880)