Just received my BluDento BLT-2.
This does AptX (352kbps max?), but NOT AptX-HD. So, it's for mp3s only (even though my .wav files sound great anyway).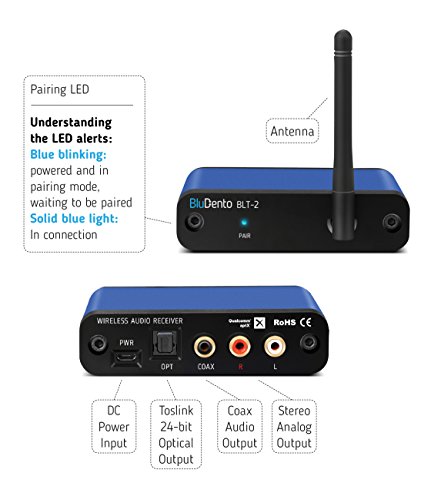 "Phone -> Bluetooth -> BLT-2 -> RCA out -> Denon AVR-1312 -> Sennheiser HD280 Pros".
Definitely no hiss, no weird artifacts or whatever. First impressions? It's as loud as the source itself. The silence is cleaner from the BLT-2 (i.e.: Silence IS silence in electronic music, for example), and this tiny little blue thing sometimes pushes more details into my ears than my headphones plugged straight into my "old" Denon.
Little paper says "(…) enjoy the crispness of your music". My guess is this thing is upsampling to 384khz before outputting to the RCAs. Makes it sound thinner, or "cleaner" ? You decide.
CONS: No on-off switch. Why? The damn blue light won't stop flashing if you don't use it (still flashing after 10 minutes here), so get a USB power cable with an on/off switch (yup, this exists).