So recently re-bought Sennheiser 600, Neumann NDH20, and Denon AH-D7200. I have a little bear portable tube now that i didnt have the last time i had 600s so i wanted to try them out. I have to say i miss the bass from the 6xx so ill be keeping the 6xx's instead. The Neumann, theyre good, really good for $500. idk much about reference but i thoroughly enjoyed their bass and mids and treble. I would even put them over the aeolus and heritage hp 3. the only thing i dont like is the bass kind of crosses into the mids and clashes a bit too much for me.
But the main point is the Denon AH-D7200. Ive had the 2000 and 5000's before and loved both. the bass of the 2000 was amazingly clean with a good midrange. the 5000's dialed back the bass a bit and made it more precise while offering cleaner midrange and better highs. I had those for awhile until I got my blackwood zmf auteur's. The 7200 i bought to directly compare to the Neumanns and they did not disappoint.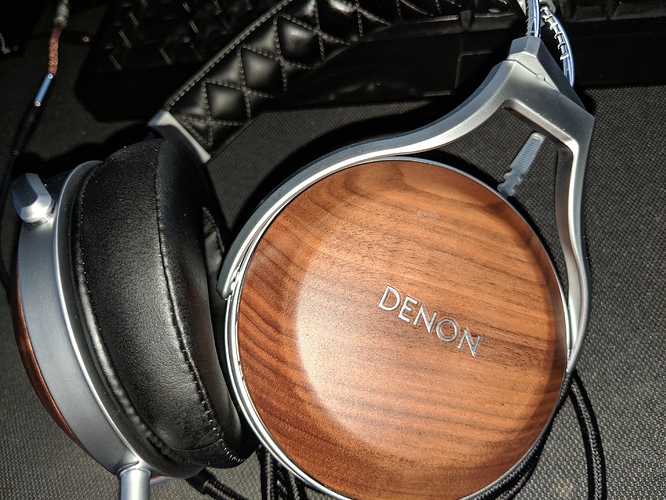 Zeos gave a glowing review to the Neumann's and I can see why. I think ive dialed in Z's sound preferences finally and I think if he reviews the 7200's will find them a little bright for him and maybe not the reference sound hes looking for. However, instead of making me feel like im in the studio with the artiest, these make me feel like im front row at their concert with the speakers playing the instruments around me and the vocals about the same plane and exactly in the middle. Not a huge soundstage but the imaging wraps around my head. I swear instead of just hearing the bass…I feel it which is difficult to do. Mids are very clean as well, not the cleanest (auteur, 600, maybe even 6xx is cleaner) but they still sound natural. Highs are well represented without being sibilant or sharp. Lorde green lights, around the 45 sec mark she starts having a lot of sharp "S's" at then end of her words for a few seconds. they sound sharp, but dont hurt my ears at all and i can be very sensitive to that. Seriously considering these as my new daily drivers.
Just for comparrison why i mention being front row at a concert, just last night (before i had a chance to really listen to the 7200s) i went to a small local bar that has live bands where jimmys chicken shack and a band called aces in chains. the latter was an alice in chains cover band and they sounded so similar to alice in chains. I got up this morning and started playing some of the alice songs on spotifiy (high quality settings) and ill be damned if it didnt sound almost exactly like what i heard live. obviosly youre not getting all the reverb from the walls and things like that but i get that same feeling.
Setup is usb to Monoprice Monolith thx portable> little bear portable
The pricing is different from the Neumanns yes and they do different things, i would highly reccomend the 7200s. Makes me want to step it up to the 9200s and see what theyre about…