Important to note differences in sound and comfort? And personally which would you recommend in general or for specific genres??
I would like to know as well for I am curious. But iirc the Tin T2s are more on the chill and relaxing side of listening while the Blon BL-03s are more on the livelier side, meaning the sounds are much excited compared to the Tin T2s.
Interesting! Im honestly very interested then, thnx
Blockquote I would like to know as well for I am curious. But iirc the Tin T2s are more on the chill and relaxing side of listening while the Blon BL-03s are more on the livelier side, meaning the sounds are much excited compared to the Tin T2s.
Wouldn't that just be the T2 pro?
I really thought the t2 pro was not good imo, would rather have the regular t2
Yeah, Mon my brother has the T2 and I have the Pro. They remind me of the Grado sound which I kind of like. I don't like semblance though…lol
Oddly enough I found the Grado and T2 Pros with the Liquid Spark to be a magical pairing. Right around the area where things might get harsh is where Cavalli rolls off the treble very slightly. I wasn't expecting it, but hey it works perfectly on both.
That would probably be pretty good, I didn't think of that. I would probably enjoy the t2 pro more with that setup
Are the Blon 03 a single 10mm driver. I'm not saying it's not possible, but I haven't personally heard any single driver IEM that sounds as good as the T2. All said though I've mainly used Klipsch earbuds, and few other easy to find IEM. At $38 I may pick up a set though.
Use a 10mm carbon diaphragm dynamic drive and kirsite anodizing…buy em as having the T2 and 03's is no waste of​:moneybag:

I wish I know, because I cannot say since I don't own the BL-03s. But what I can say is that it has the same sound signature as the Tin T2s but with some added crisp or in an excited form. Maybe it's like the T2 Pros again or not.
Tbh I don't see myself owning a pro version of these, so I stick with just the regular T2s and I love them so much. Sound wise they are better than my SE215s and right now it's going neck in neck with my KZ ZS10 Pros. It's hard to choose between the 2 right now for me, for there are times I switch to using my T2s and switch again to my ZS10 Pros.
I like them both. Ironically, for me, the BLON03 sound better with the T2 blue ear tips. I like the T2s better just because they seem to have a much better response all across the board. I put them in and they sound great. The 03s I have to fiddle around with finding the exact right ear tip to make them sound their best. I paid $38 for the T2s from Drop and 26 for the 03s from Linsoul's website. So 64 for both.
It is all subjective, but personally, the Tin T2 is the worst IEM I've heard. I hate it and wish I never bought it. It turned me off to IEMs for years until I tried the Moondrop Starfield. In contrast, the Blon BL03 is incredibly enjoyable to listen to. Don't expect technical performance from either, but the Blon tuning is fantastic.
No contest, Blon wins hands down. Buy a bunch of them!
I believe that the reason that the T2 is so famous is because back when it got released. Every iem in that price range where V-shaped. So basically the T2 was literally the only option if you wanted something more neutral.
(I havent heard the T2 though, but I got the T3 and its…not good…)
Funny, I've seldom heard people who hate the T2. Personally I love the T2, though it heavily depends on what music I'm listening to because they are not all-rounders. Can't really compare them to the Blons since I don't have them, but I should be getting them in next week.
From the FR graph it seems that they have radically different sound signature, with the T2 being a neutral bright IEM and the BL03 have a more v-shaped and fun signature. The fit of the T2 is pretty terrible IMO, but I have heard nothing but bad things about the fit of the BL03 as well.
Why I hate its sound.
It's horrible.
Same, but I've never had an issue with them. I wish the stem was a bit longer. I just use larger tips than usual.
I ended up putting my T2's on a mic'd mmcx cable and use it with a ddhifi TC35b as my weird headset for work calls. The T2's work really well for calls - voices are very clear. Definitely not favorites for music, but they have found a noble purpose in my life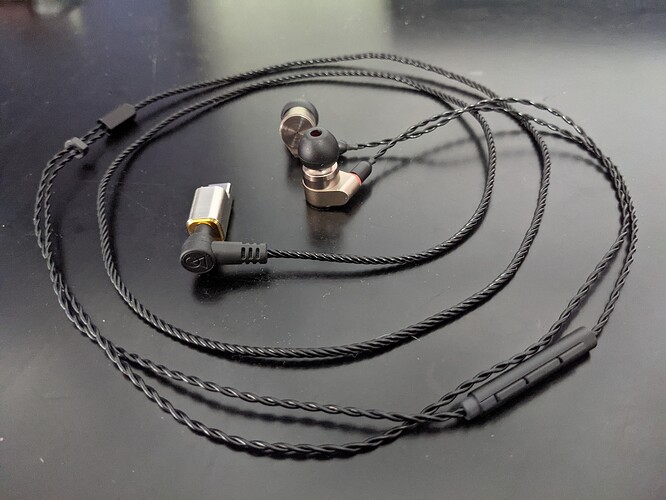 Blon BL03's are wired up 2.5mm balanced and used on my BTR5 for when I'm out and want to listen to tunes without fear of losing the IEMs. Can't beat the low anxiety enjoyment in BL03's!
In terms of the fit, I think the T2s for me fit me fine they don't fall off from my ears and also they don't hurt when I wear them for longer periods, even with the stock tips that I got from it fit me fine for I never had any issues.
The BLONs however did gave me issues in terms of the fit, for it is not tolerable for me to wear it in my ears with the stock tips and stock cable, so I have to basically replace the tips and cable to finally make it and IEMs that is indeed one of my favorites.
There is nothing wrong with either of them, sound wise.
The T2 is a well-tuned neutral sound signature. The Blon 03 is a well-tuned harman signature.
Fit in-ear is a grab bag of results since physical ear shapes are different.
The choice of a winner or a loser… is mainly based on one's listening preference and also one's music preference.