Hello there!
So I was looking for an entry level OTL amp for my 6xx and the options that I found were pretty limited (considering that I'm in Austria):
Darkvoice: basically not available.
Bottlehead Crack: include shipping and customs and the price is above what I would consider "entry level". And tbh I don't trust my soldering skills that much.
Schitt Valhalla: unavailable in Europe. Import from US → Shipping and customs → $$$. And the fact that Schiit recently stated that they will not repair stuff that was sold overseas doesn't make importing from US much more attractive.
XDuoo TA-26: well that was actually the only option that I came down to …
until I saw some posts from @M0N that the Eufonika H7 is a valid alternative in Europe.
So after some Googling I ordered the H7 from Etsy.
While my experiences with Tube Amps are pretty limited (until now I only got a Loxjie P20) I can say that the 6xx really sound amazing on the H7. The sound is fuller, more lively and the lowend has more texture, impact and punch to it. Really amazing what the tubes can do for that headphone.
So next step I also tried my other headphones (Zeus, Sundara, Elegia) on the H7. While for both Zeus and Sundara it didn't add anything remarkable, they sounded ok! No distortion, though the Sundara feel a bit lacking - but I wasn't expecting much here since everyone says that low impedance planars do not work well with entry level OTLs. Still the H7 achieves passable results here for me.
Surprisingly the Elegia sounded very lively and enjoyable on the H7 - very nice experience.
In addition to the sound the build quality is excellent in my opinion. The case is wood, everything feels solid it has some heft to it. Really beautiful thing!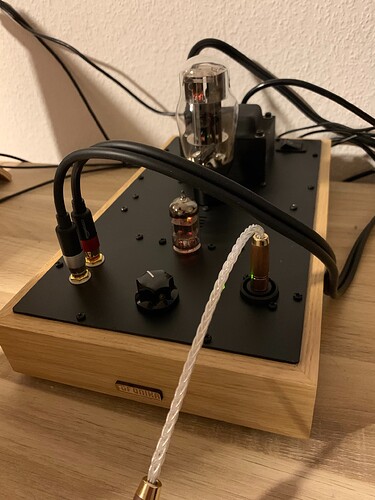 TLDR: for those looking for an entry level OTL in Europe, I think the H7 deserves much more love and attention.