There comes a time in every HE-400i's life when ya just gotta do whatcha gotta do.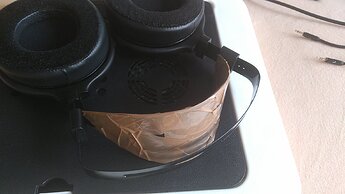 This happens so much it deserves a thread of its own.


So let's post our headband disasters here and what repairs seem to have worked, preferably with pics.
Right now I'm thinking to look for some textile tape or woven-whatever tape to wrap it in, after the packing tape comes off.
(Earpads not included because usually people just replace those entirely or go around online talking about simply peeling everything off and using them uncovered with anything else as a "fix". But do post earpads too if you have some brilliant solution for what to coat them in after they peel.)