Hi everyone!
I am still fairly new to all of this stuff. Needed an amp for my desktop speakers and ended up buying a Pro-Ject MaiA (DAC-Amp-Combo).
When connected without any sources (and also with sources) there is a quiet noise and a faint 7.2kHz (measured with mobile phone) tone.
I have a small desk, so I even notice it from my speakers when the room is quiet.
But it is really apparent when I connect my headphones (32Ohm Focal Listen ) or any IEMs.
They are otherwise dead silent when I connect them to my Focusrite Scarlett 2i2.
Now I think about returning the unit … but I am not sure if this is maybe something that is kinda expected for this kind of device?
It is normally supposed to deliver far more power than just a dedicated headphone amp. Does this change the rules, so that I will run into the same problem for all devices of this class?
Here is an image of the phone measurement. The dark band in the lower spectrogram is the noise floor of the room ( +2 fans) and the brighter parts are me holding the microphone in front of the tweeter.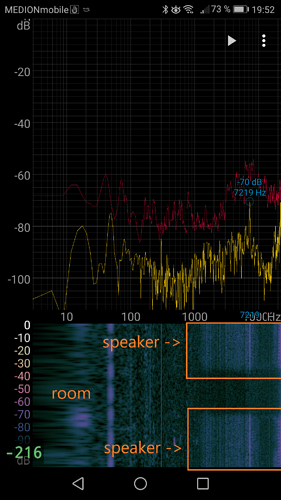 Best Regards
astro