I bought these around Christmas time on a whim. They were $140 on Amazon, but right now they're on sale for $94. "Only 5 left in stock" at the time of this writing.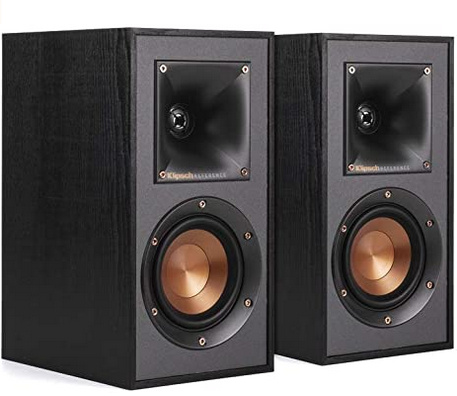 I kind of bought these as an alternative to the Sony SSCS5 3-Way 3-Driver Bookshelf I bought almost 2 years ago. That was just as I was getting into the hobby and didn't know about HFG or Z Reviews. So the Sony's were purchased on price point and Amazon reviews. They are fairly highly rated, as are the Klipsch's I now have.
But these R-41M's, which are small - smaller than the Sony's - are kick-ass! They sound far better than the Sony's by a long shot. I've been playing all sorts of genre's and everything sounds good on them.
These are setup next to my main PC desk on speaker stands and powered by the Emotiva BasX A-100 and the Geshelli Labs Enog DAC. They're placed about 2 feet from the wall behind them and toed in toward me for optimal listening.
For as small as these are, the bass is very respectable and even more than you'd expect. In fact, I don't feel like I even need to add a sub-woofer to this setup. What it outputs on the low end is sufficient to make an enjoyable time listening to music. With the Sony's I knew I needed a sub-woofer within a minute of first using them.
Treble is good and not ear-piercing either. Timbre is also good and I'm easily able to discern instruments playing.
I'm very impressed for these little guys and especially at the price they're selling for.