I really need to talk about these. I feel really discombobulated because I don't know how to feel about the KTXPRO1. Such intense love and hate on the first day of use, but idk which is stronger.
I've been curious about these since seeing them on Amazon. It got great reviews overall there, but there is barely any info about it here, Reddit, Head-Fi, Youtube, etc. Curiosity got the best of best of me, so I bought them yesterday along with the KSC75. 1 day is too early to give good impressions, but man… these have to simultaneously be the most impressive, disappointing, and aggravating headphones I've tried. Now, I don't have anything really "hi-fi" nor have I tried much mid-fi and entry level stuff. I'm not an "average" ear either, and my tastes could be bizarre. But I still really want to talk about them soon, because I really really like the sound despite some major flaws in design. Heck, I love these more than the KSC75, which I will return. I may even like these more than my ATH-AD900x.
I will give a much more detailed and organized writeup a couple days or a week later - however long it takes for my opinions to stabilize.
…
Short first-several-hours impressions:
Pros
Decent tonality. Seems kind of neutral, maybe a bit V-shaped. I would say in-between the Porta Pro and KSC75 in terms of signature. Don't have the KPH30i with me, but I think the KPH30i is a bit brighter than the Porta Pro. KTXPRO1 would be brighter yet.
Decent technical ability ("speed" resolution etc.). In line with other Koss 60 ohm headphones.
Interesting soundstage. The AD900x is not particularly expansive and tends to clump voices together, but it's my best point of comparison: the KTXPRO sounds more open and "realistic" in terms of sound stage.
Comfortable for long periods of time. Even with the weird fit, the nice silicone headband and low clamping force make up for the awkward fit.
Cons
Not made for humans. How much crack did the designers take in before designing the swivel? Why are the pads so small and thin? (Worse than KSC75 stock).
Due to the weird fit, they don't stay in place well.
Pads seem to be permanently affixed. I could tear them off, but I don't want to without knowing if I really wish to keep these. Putting Yaxis over the stock pads seems to muddy and muffle the sound so idk if it would be a good idea. Much more comfortable, however.
Sound characteristics heavily dependent on position of the headphones. It's most comfortable to wear the pads over the tragus (of the pinna AKA outer ear), but it give a very muffled sound. Moving back to rest on only the Helix and Antihelix feels very awkward but seems to give the most transparent sound.
Some quirks in the sound. 1, imaging feels a bit ambiguous (LR differentiation is not the clearest), but feels more realistic too. Hard to describe. 2, some mid frequencies feel distorted, but the feeling is more instinctual than obvious. 3, even though bass feels satisfactory, the sound overall feels a bit tinny, maybe because of the way the headphones fit.
…
I really need more time with these. I feel really unconfident in my impressions because these headphones are so bizarre. I also would like to write to Koss and get a clear response on how to take off and put on these pads.
Brief comparison with other Koss 60 ohm headphones by metal571:

A picture: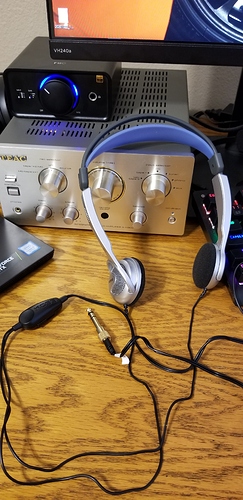 UPDATE:
Couldn't sleep, so I braved opening up the casing around the driver. I should have known better, it looks exactly like every other Koss 60 ohm, mounting point included.
For now, I replaced the stock cushions with stock Porta Pro cushions. Comfort is improved slightly. I'm not able to test sound at a decent volume since it's past midnight, but I will after a good sleep. So far the bass is still present, but that's all I can tell for now.
Seriously, who the heck designed the stock cushions?? Not that the Porta Pro cushions are good, but they are twice as thick as KTXPRO1 cushions. And properly wrap around the driver so that the ear doesn't brush against the edge of the driver casing. Definitely going to order some Yaxis to try out since they provide proper support.
Just blue, or blue+red? Decisions…