This thread will be dedicated to live shows currently running online for people to watch.
(I was unable to find an existing thread for this.)
If possible, stick to the following format in this thread:
A link directly to the live show with a short description of the music

A link to the shows main channel or a location that serves as a repository for their music or their homepage, whatever that may be.
The show ended!
NiNi Music puts on a live broadcast weekly on her YouTube channel. This is a live broadcast link, so if you missed it, then you can catch the type of music she plays on her main channel. Here is a link to the live show currently running, if it isn't up when you find this, then i will link the main channel with her music after.
(EDIT! The show ended! as promised I am now editing out the live-link. but will leave up a thumbnail for appearance purposes - so people can see how the structure of the thread should work.)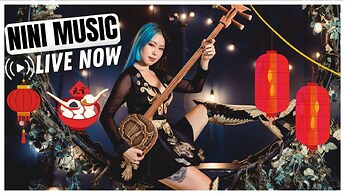 She doesn't usually leave these shows up after they end - so it is dead link removal. Instead, here is a link to her channel and other sources if people are interested.
Her music can be downloaded for free through this link : LEGENDS | Nini Music
She also has a twitch channel, but I am unsure how active it is, it seems to serve as a repository for some of her live broadcasts.
I will link that as well : Twitch