Confused introduction
This beeing my first thread on here and me probably beeing so blind I don't see a category explanation, I just pray this is the right category.
That said, Hi!
---
Current Situation
My current cheapo mixer only has 2 stereo channels which leads to the constallation that my audio interface is hooked into the tape/CD input.
Currently my monitors are hooked to the passthrough of my headphone amp.
| Source | Mono/Stereo | Note |
| --- | --- | --- |
| Mainboard | Stereo | |
| Soundcard | Stereo | |
| Audio Interface | Stereo | has balanced or unbalanced out |
| USB Mic | Mono | |
---
Where I want to be
No software!
Each source on its own volume slider/knob
Seperate Main and Monitor outputs
Pan-knobs on each channel are a must
Not 19", needs to be desktop
Main and Monitor need to be able to output unbalanced
optional: (EQ on the main is a plus, EQ on each channel is preferred though)
As a diagramm: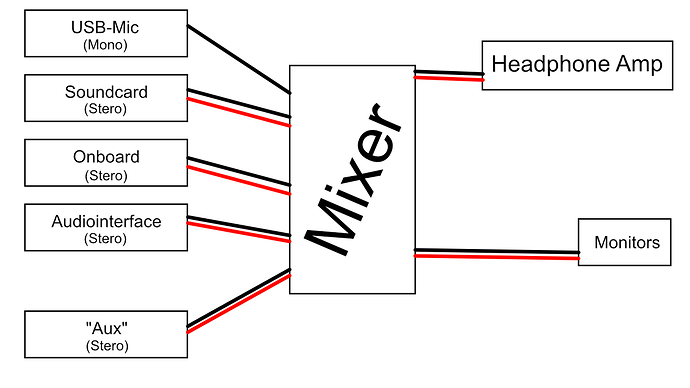 ---
Products that could work
So far, I found three products that fit the bill
Phonic AM440D


Behringer Xenyx 1002B


Mackie Mix12FX

---
As I do this for a hobby and not for a job, I would like to keep the spending low-ish without saving on the wrong end. If anyone has different suggestions to go about this, let me know.
Products need to be available in or ship to Germany.
Ideas, Suggestions and horror stories welcome!