that zmf pads + detach cable?
Brainwavz xl and detachable 2.5mm port.
I sold all my zmf pads btw
and you didn't contact me to buy them, that right there is a true sin lol. swore off zmfs pads?
Yeah pretty much, I'm not zeos either and don't really need a million pads. Although I did buy all the xl pads except for the suede and sheepskin ones. Been trying to mod the retros to make them better. Like dampening the driver and of course detachable cables.
I really should get around to doing that at some point. I tried to like the zmf pads but really just couldn't wager the price tag considering I got the same enjoyment from Dekoni. Brainwavz are nice too though they just weren't as comfortable to me. I probably will take another look at Brainwavz later on… you also have vesperaudio who I stumbled upon… literally the only company I know that makes Suedes for the Aeons.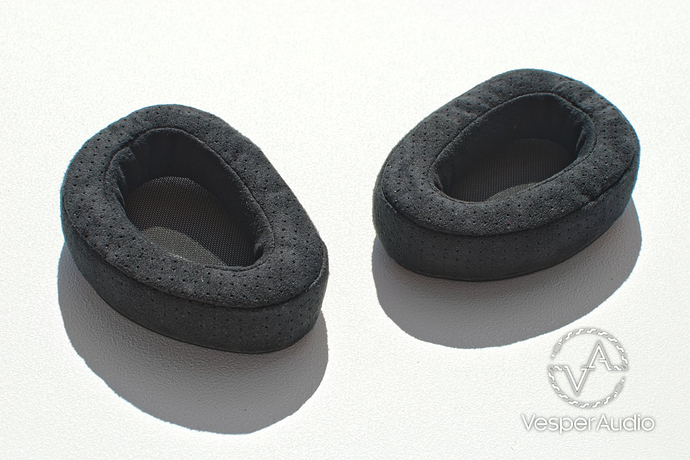 they make custom pads so pretty much whatever fabric you want… custom fitted high material
Will probably hit them up soon. Maybe they could make a custom angled pad for the retros.
I know they make these here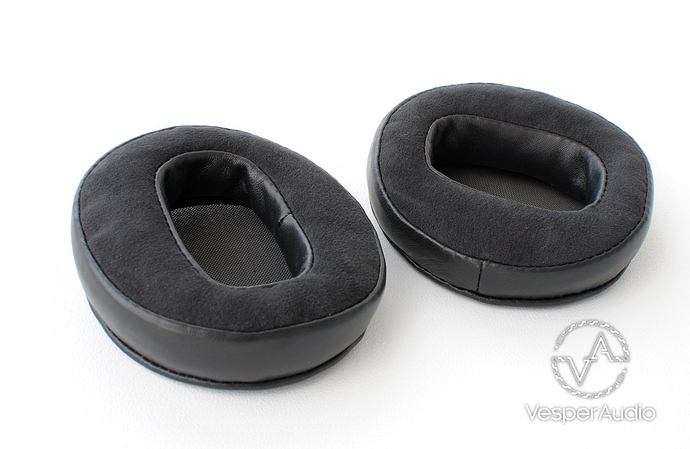 which are custom alcantara vegans for the monolith and they are angled… so I would think they would be able to swing it?
We handcraft earpads for almost any hi-fi headphones utilizing whole grain real leather and/or alcantara, microsuede, chamois, velour
More durable, skin-friendly and luxurious than artificial vinyl (including "protein leather", "leatherette", "vegan leather", "PU leather", "pleather") material earpads. Incomparable smell of leather.
Dimensions, design can be customized. We offer several colors or material combinations, perforation, angling, memory foam, natural latex and gel cooling.
Some of supraaural headphones can be converted into circumaural (Audeze Sine, AT ES/ESW series, so on)
Headbands (detachable or workshop-mounted) available for many headphones.
Due to high level of customization all orders are handled in manual mode. Please feel free to request pads of your dream via contacts.
We accept paypal.
Following photos show just some examples of possible pads. You can order any other design for any headphones model.
yeah so apparently … whatever the hell you want? lol I might see if they can swing some chamos and alcantaras for my beyers or a full swing of angled pads for my T1 since for some damn reason they don't come with angled pads despite having angled drivers…
If you do order from them @JJPablo let me know… I would like to hear your thoughts. Here's the email when I asked them a ways back about aeon pads.
We made many pad sets for aeon in different materials and had no feedback that any of them ruined the sound. But if you use fabric materials (if stock was in fake leather or leather) you should expect some sound corrections.
Handcrafted custom earpads, over-ear type, whole genuine leather, hybrid or whole microsuede(vegan), not angled, fast foam, are 52 euro/pair. Payment via paypal (goods/services type).
You can order standart or any custom thickness/angle/opening.
We offer:
Real leather - black, emerald ink, dark-grey, red, coral, dark brown, brown, orange, blue, dark blue, beige, purple, and perforated black
Alcantara - anthracite black - 10 euro extra, blue, beige, burgundy alcantara - no extra
Perforated\regular black microsuede - no extra,
Velour (black, grey) - no extra
Brown, grey microsuede - no extra
Black longpiled microsuede (extrasoft) - no extra
Real black suede (chamois) - 8 euro extra, brown - 8 euro extra
Memory foam - 3 euro extra
Angled type design - 7 euro extra
Additional cooling - 14 euro extra
Air priority tracked mail - 7 euro.
as expected, prices can jump quite high
they do ship to us… had to read some reviewers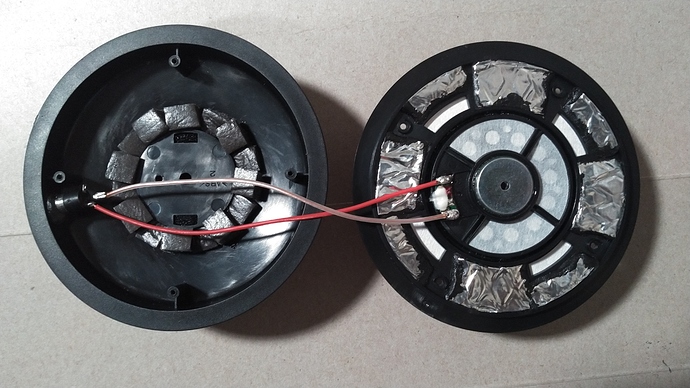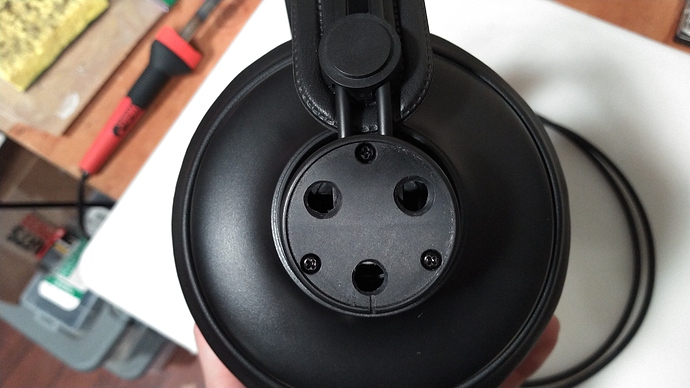 I did a bunch of different mods to the Retros before deciding on what is in the pics. With these mods they are superb - extremely detailed, very tight bass, no unwanted resonance. I love these headphones.
What is in the pics:
Balanced mod, 3.5mm jacks in both ear cups (like you already did with 2.5mm).
Cut squares of weather stripping foam (2 different thicknesses - I used Frost King brand 3/4" wide x 5/16" and 7/16" thick) and stick them into the bottom of the ear cups around the edge of the raised middle section in alternating thicknesses. This circular crevice is where the mid bass resonance comes from, and this uneven wall of foam absorbs and breaks it up.
Line the frame of the driver with sound dampening rubber. This is used in the auto industry to reduce resonance and is great for headphone modding. Putting it on the driver frame mass loads the frame and reduces vibrations that would otherwise transfer into the ear cups. Doing this improves what is already good imaging and detail accuracy.
Drill out the 3 holes in the part of the ear cups the headband goes into to 1/4". You can use a chamfer bit in addition to or instead of a drill bit to do this. Don't put the sticker back on that covers the holes. The purpose of this is to increase air flow into the driver cups through the multiple channels that exist inside the headphones. Doing so both increases the lower bass and makes the driver sound less restricted. You can skip this step by just leaving the caps off the outside of the ear cups, but doing so looks bad and takes away one of the two connections holding the headband in place.
Final Thoughts: These drivers respond strongly to adjusting the air flow to them - you can add or subtract bass by changing air flow into the ear cups, and they have a restricted sound in their unmodded form. Stick different things into crevice at the base of the ear cups around the raised section to reduce mid bass resonance. Stay away from felt with these, it reduces resonance but also badly reduces detail clarity. Good luck in your efforts, keep up us updated on your findings!
Been trying out some different dampening methods but haven't been able to fix the harsh upper mids/lower treble. Will try this out instead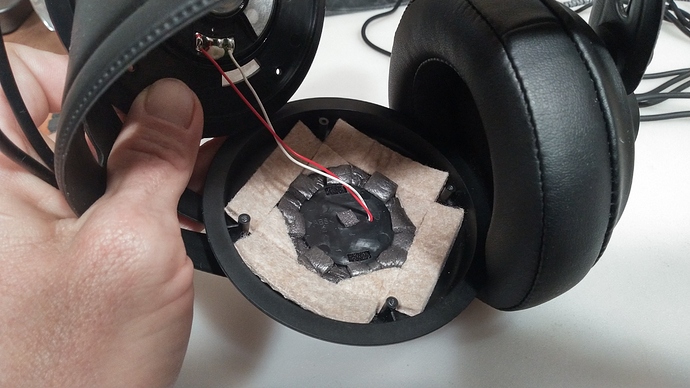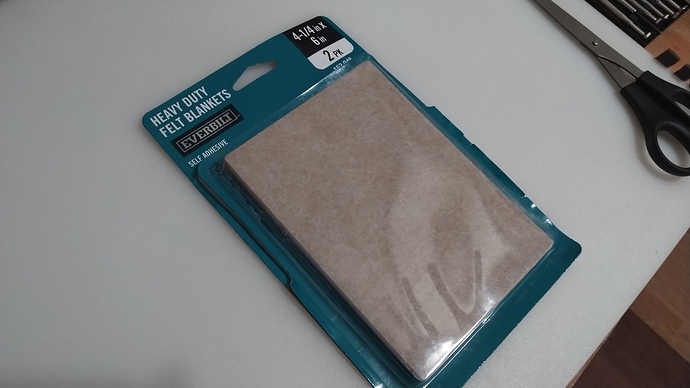 If you are having problems with harshness, you may prefer the mods that didn't work for me. This pic shows two things you can do which I describe as removing detail clarity, but you may feel takes the edge off of things in a positive way. These felt squares are sold at the hardware store for putting under furniture to make them slide on hardwood floors (they have a firm glue backing that makes them stick to whatever). It is easy to cut them into pieces and line the ear cups with, which will soften every frequency range (lows, mids, and highs). They also pull out easily which makes it an easy mod to try and remove if you don't like it. The second small but important mod in this pic is plugging the hole in the center of the circular raised section at the base of the ear cup. I did it with a piece of foam, you can also just cover it with tape. Plugging the hole cuts off most of the air going into the ear cups, which makes the bass go away almost completely, resulting in a flatter overall sound profile. Also an easy mod to try and remove.