Anybody got any sweet HT setups they would like to show off?
I got my 15 year old reciever with definitive 5.1 on wall set up.
I did the sonos thing… playbar + 2 sonos play 1's + sonos sub… pretty nice imo for what it is
I don't have one. I sold my 55" TV cause there was no where for it…living room in this house is designed badly. well…not really, but because the living room area is also the dining room and cat room, there is no space to put anything against a wall.
I do have Bang & Olufsen's s8 2.1 kit…but would need to buy a $400 doodad to allow it to connect to a TV (I think it just pulls audio from the HDMI for the s8's 3.5mm jack) and I do have an Optoma HD27e projector that, if we can set it up, would give me a 90+" diagonal. but then no audio. I would love to know if there is a motorized screen that has the power to have a soundbar to hang from it.
Can I show off the shit my step-dad thinks is better then anything else he could get his paws on? Even refuses to touch the speakers my mother bought him, insisting on using the ones he has had for longer then the 22-23 years he has known her for.
I'm waiting on some new racks, both my HT set-ups look so very ghetto but sound just fine. Once the new furniture comes in and I re-configure things I'll post some pictures. Looking forward to seeing what others have though.
Please do, just cause it's old doesn't mean it's no longer good. New things are nice, new technology ideas etc. A well set up system though can still provide a nice experience even if it's outdated.
The newest thing might be the Yamaha receiver. I can say the speakers are connected all through bare speaker wire. No banana plugs here. Yes, the dinning room table is that trashed. I can clean it off all I want. Within 2 days, it will be back to being just as trashed. Partially because they do not know how to throw anything away. The subwoofer is in the cabinet under the blue ray player.

Yes, that is sheets shoved into the ceiling where there used to be ceiling speakers.
Blue ray is connected to the reciever via HDMI then to the TV via HDMI
The front channels are 1ft 3.25in x 2ft 2.75in x 11.75in (WxHxD)
TV is a 50in Samsung.
I repeat. To this man, God Tier can not touch this.
Well, you can't fix stupid…especially when it's been stupid a long time.
This is pretty budget friendly audio setup, nothing crazy. JBL Arena 130s, JBL Arena 125C, Denon 4K receiver (not sure the model, can't remember off top of my head), Polk sub (pretty cheap/does the job). This is for movies/shows. I listen to my music 99% of the time off my headphones. Oh and Samsung 4K TV. Can't remember the model number would have to look lol.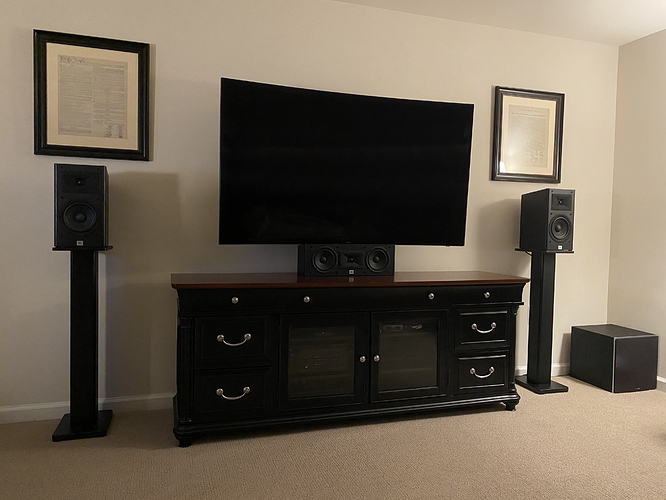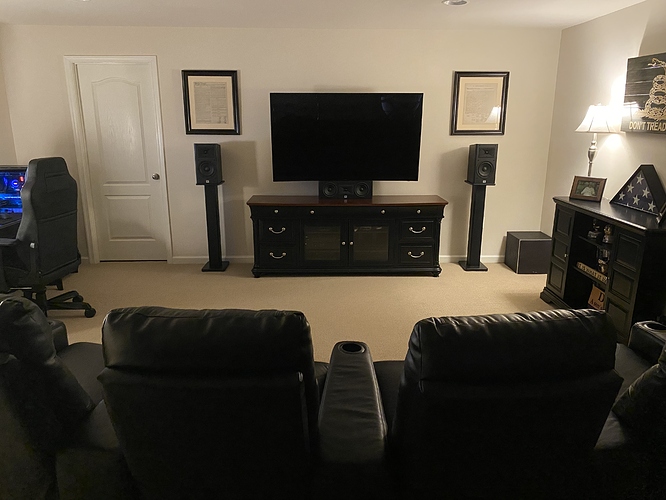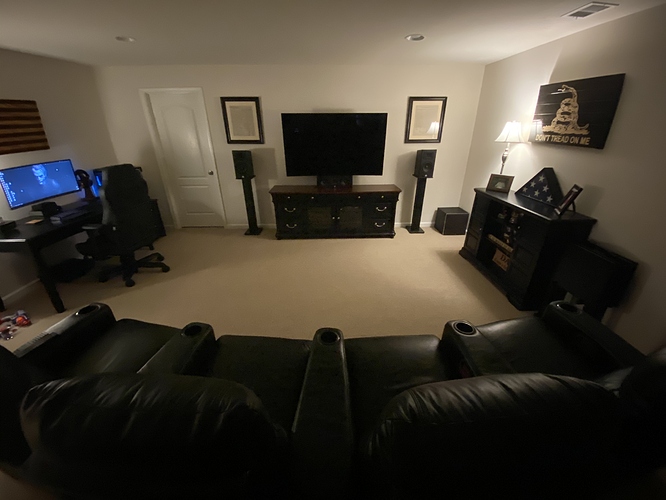 I weirdly dislike theater seating
Lack of of couch potato opportunities
Yeah I know. I have other rooms with couches haha.
Is the sub a PSW-505? I have one of those under my desk and it actually is pretty solid.
and totally lose out on snuggling if dragged into a rom com or something by our greater half…
Thought about buying another for the other side.
Picture is from the "endgame" thread on here, but there is a change in the setup since that was taken…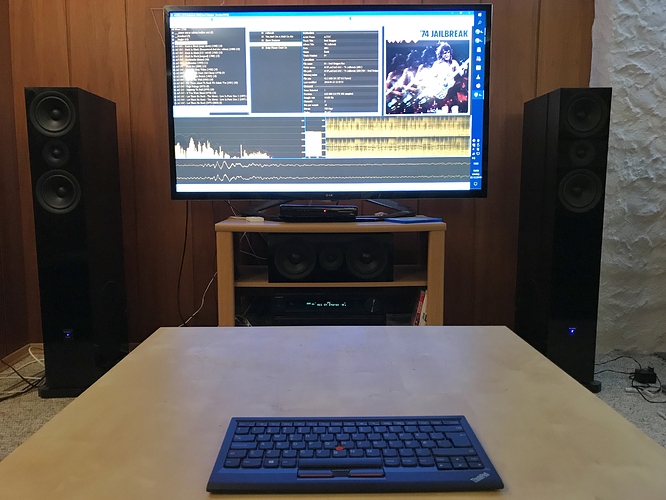 The LG tv in the picture has been upgraded to a Samsung QLed (model Q82R) that just crushed that old LG in every possible way. It has very good black levels, although not quite as good as OLed might be. Very happy with it though…
As for the surround sound (5.2) i have a Audio Pro surround speaker set, with the Audio Pro Blue Diamond V3 front speakers that has a 10" powered sub in each for that rumble in action movies). The center is a Audio Pro Vector, and the rears are Audio Pro black pearl bookshelfs. It is hooked up to an onkyo tx-nr609 receiver. Using a computer to stream and watch movies. Also, there is a LG BR player and a satellite tv decoder (mostly used to watch motorsports, atleast when there where live sports)

My parents are in the process of building a house. The home theater will have:
Video:
BenQ HT3550 projector, Silver Ticket acoustically transparent screen
Audio:
Episode 550 Series 5.1 (in wall behind the screen for the front)
Episode dual 8" In-Wall Subwoofer
Denon 7.2 105W Receiver
Will post a picture when all is said and done.