I just got the 'e' version in. There's definitely more of a difference to the sound than I expected, compared to the RNHP. I don't want to necessarily say it's "better" (They both sound great), but it definitely sounds different for sure.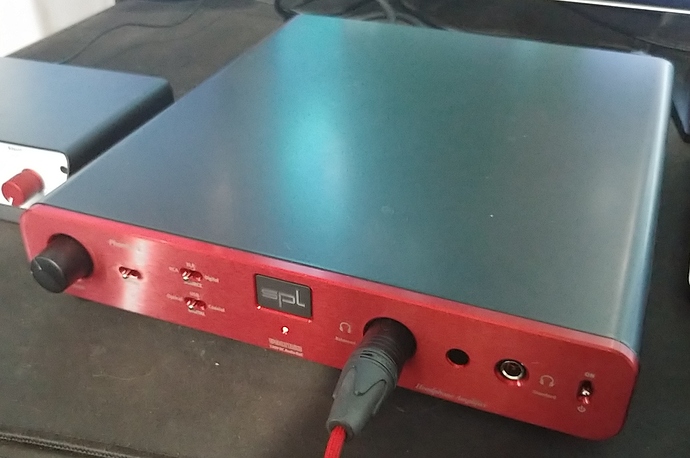 Oh… and I have not tested it… but mine came with a DAC as well. =D I've heard it's nothing to write home about, but it was advertised with No DAC… and it seems headphones.com sent me one of their units with the DAC built in.
That's awesome. Look at you with all the upgrades!
You'll have to post more impressions after you've had some good listening time.
Congratulations.
Oh I saw the deal. Congrats!
Wow nice. DAC too. Cmon its gotta be better than the Rupert Neve amp! Give us a review. what does it sound like?
Do you think the dac could potentially replace your topping for you?
Have not even touched the DAC component yet… lol. But will definitely give it a listen soon. I'm supposed to go pick up a late lunch here… but currently very distracted. Just on the amp component alone I definitely have 'feelings' to convey, but I need time to parce them out and figure out how to articulate them.
So far it sounds like the Phonitor is more of a complimentary addition to the RNHP rather than an obvious upgrade
Yeah, well it's mostly that I don't want to speak too soon and it's definitely going for a different direction.
It's like comparing a porche to a BMW… one could be the nicest sedan you've ever driven, but maybe you really want a sports car instead… so it's going to come down to preference a bit, I think.
But as a small tease, I will say it's extremely resolving, but also much less fatiguing than the RNHP or THX amps.
You should connect some shitty DACs and do a shit DAC roundup tournament on the phonitor. There can be only one! Lmao

I need a new optical cable to properly AB them at the same time… The one I had hooked up to my PS4 just broke as I disconnected it. Lol. So no sound with it… =(
But switching back and forth with my working optical cable between the Topping D90 and built in DAC, my preliminary impression is probably, most definitely 'no' as far as the built in DAC being able to replace the D90.
Darn, I was wondering if they improved the dac in there or something based on the last time I heard it lol. Well hopefully the amp portion is more satisfactory (it was based on my experience lol)
Yeah, I'd have been happy to sell off or return the D90 and put that money directly towards the Denafrips Ares, but based on brief listening, it's a pretty noticeable downgrade. But I've already ordered a couple sets of toslink cables, which Amazon should deliver later tonight… so I can test it better then.
Gotta love same day shipping!
Some proper ABing happening now. =)


Notice how F-ing Bright that Light is on the RNHP… lmao (Using the B input right now). Where the SPL hs a more reasonable red light on the front.
I'm basking in a glorious green glow as I type this!

Yeah, it's that bright.
So I originally felt the Phonitor might just be a bit more pulled back, with what I perceived to be a 'wider' sound stage… So I thought maybe the "Matrix" crossfeed circuit which you can turn off and on might be permanently embedded a bit into the design of the amp to some extent… and the RNHP and THX amps were simply going for a more straight forward amping sound.
But now ABing with the RNHP, I think the difference is a lot more straight-forward. The Phonitor is just a good deal more resolving. There's a very noticeable difference in the articulation and separation of sounds, which does a lot for the overall imaging and makes sounds more 3 dimensional and separated, hence why I had my initial impression…
More thoughts tomorrow or later this week for sure. Including more comparisons for the internal DAC vs the Topping D90.
That's in line with @Darthpool's summation of the Fidelice (re-cased) RNHP compared to the Phonitor X. The Phonitor is a good step up from an already fantastic RNHP.