Remember when i found that cool looking 20$ power cable on Amazon? Well i just received it and wow. this cable is crazy. Its huge. Its like an industrial size cable. take a look at this: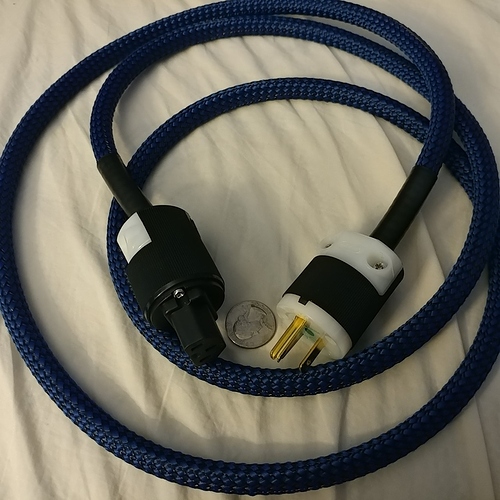 Not only the cable but the plugs on this thing is huge. It says "Hospital Grade" on it. Its a 6 foot cable, i could have gotten a 4 foot even cheaper. and i got to say i feel more confident plunging this into my all too precious gear. The cable that came with my DAC was much too short. So i got a standard 8 dollar cable off amazon. And i got to admit i was worried plugging it in and giving it a try.
why not pay a little more, 12$, and have more confidence in this cable and the safer power it must provide? Theres a bunch of cheap cables like these on Ali express and i found a red one of these for about the same price for my amp.
Thing is it has a switch on it with 2 settings. above it is labeled: "Set pointer for Gord DIA" Then where the switch is it says "Cord Gage" and 2 settings: "Larger than Gage", "Smaller than Gage". Does anyone know what this means? which setting should i put it on?: