So! This post is a follow-up and guide for setting up a DIY Atmos system. If you didn't see the video, here's the link: I built an INSANE speaker system CHEAP - YouTube
Here's what I used, but you can mix this up and use different parts:
2X u2audio7-1 DAC
12X (6 pairs) Dayton B452 airs
Dayton MA1240a (amplifier)
A subwoofer of your choosing
5X minidsp 2x4
speaker wire
speaker stands
Dayton Umm6 measurement mic
Software:
MacOS
Loopback
REW (room EQ wizard) (free)
This 7.1.4 is set up like a normal 7.1 system but with 4 additional speakers above you (top left and right, back left and right)
Mounting the speakers on the ceiling is up to you, I used PVC pipe with 3D printed brackets to keep it cheap.
The each day gets a few set of 3.5mm to RCA cables coming out, these signals pass through the miniDSP 2X4 (two channels per miniDSP, channel 1 and 2), then into the Dayton speaker amp.
Each miniDSP will need USB power to function, BUT it only needs to be plugged into a computer during configuration. Once it's configured you can plug it into a USB brick on the wall. There are some USB bricks on amazon that have 6-8 plugs pretty cheap.
Connect to each miniDSP and make sure they're set to stereo (system settings tab in the miniDSP software)
Next make sure ALL of the crossover filters are bypassed on out 1, 2, 3, and 4.
Do this for each miniDSP.
The 12th channel is for your subwoofer.
Once this is done you can install the loopback software and connect your dacs. Here's some helpful pics of the setup process.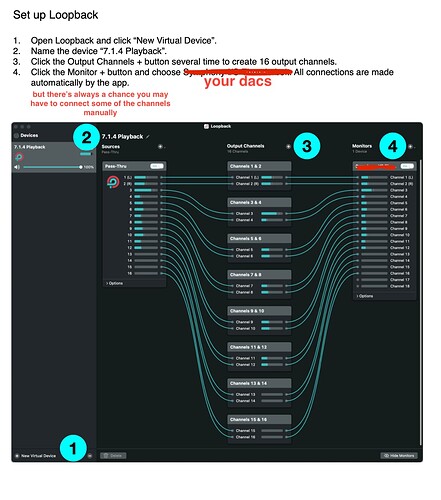 NOTE: We're creating a virtual 16 channel interface but we only need to set up and route 12 outputs. Don't ask me why because I'm not sure why, but it needs that virtual 16 channel interface to work well (even though we only route and use 12 channels)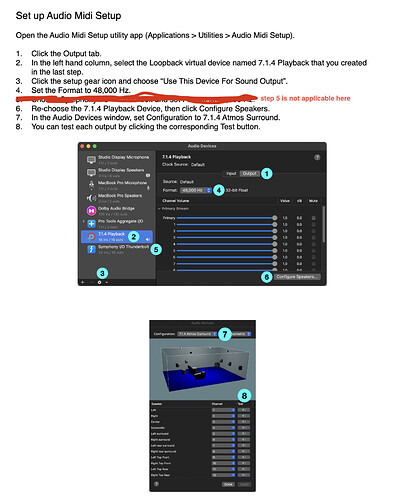 you'll probably have to click around and shuffle the speakers, basically you're running the test tone and selecting new channels till you hear the test-tone in the correct position of the room.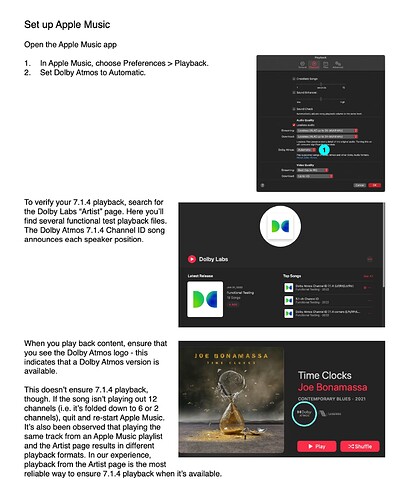 These screenshots are from an Apogee PDF on how to setup their symphony IO interface with Atmos, I've just adapted their instructions and included dad aggregation.
One troubleshooting note, Ive set this up twice and on the first system it wouldn't let the 2nd dac hold enough channels so I had to plug up 2 random dacs laying around to fill in the remaining channels and combine them in loopback, this is a simple process but just know if you have a problem with the 2nd cheap dac not working on enough channels, you may have to plug in an additional dac for a few more outputs.
After this you can go one at a time in REW. Before you start running sweeps go to the back of the amp and turn the channel's volume pot up while playing a test tone in REW (you'll have to do this with each channel 1 at a time to match volume and get it to a level you want, then start your sweeps measuring the speakers and DSP correcting them with the MiniDSPs. It's a long process but WELL worth it.
It's also worth noting that from here on out you'll be using the volume control on the computer as the master system volume.
(don't forget to DSP correct your subwoofer also!)
After all this, you should be ready to stream Atmos music and movies in 7.1.4 with 12 channels.
Happy listening! If you have questions I'll try to check in here occasionally and answer them as well as in the YouTube comments.