Hello there my fellow audio friends,
I am looking for advice in choosing right speakers for my situation. Now i am using a Hi-Fi tower, pretty old one, Sanyo DC-X2, connected torough aux input right in my laptop's audio output. Last week i got a really great deal on DAC Topping E30, which has a signal output, no amp and which i took and now i need something to fullfill it's potential.
What i found looking so far are studio monitors, that are in my price range (450$) and should be best for my use. Those are KRK Rokit 5g4 and ADAM AUDIO T5V or maybe cheaper MACKIE CR4-X with subwoofer or MACKIE MR624, because i dont really listen to music really loud. Because of my setup i would think that KRK's with built in equalizer i could adjust right as i need and they too have a bassreflex in front, but its commonly known that any speakers shouldnt be right next to wall or corner, but i don't really see any other option here.
My setup looks something like this, while right speaker is in corner beacause of my monitor being on an arm that i am moving here and there because of the second table I am often working on. Here is a brief presentation :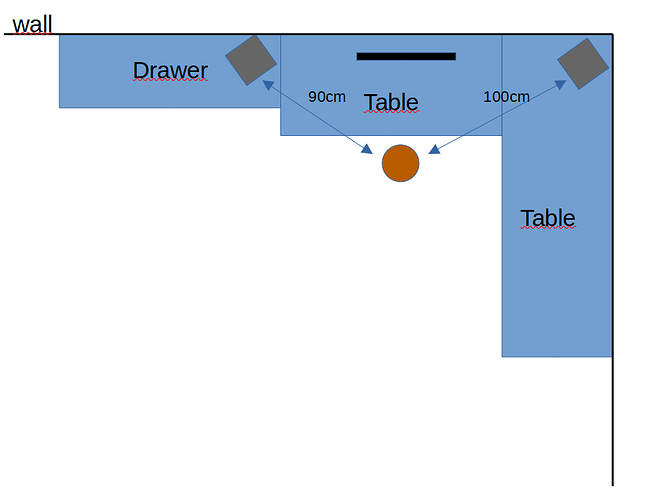 Even if you have some advice about positioning of my speakers, would be much appriciated. My room is roughly 30m squared, but i do listen mainly just as pictured.
For the use, mainly its PC speaker, so movies, games, and general use, but i really like listening to good music and i dont like headphones really and i do have the E30 already. My actual setup is kind of ok, but i really would love some better sound.
I would love any recomendations or advice. Happy to be here. Thank you