I can't say I've seen anything said about them on here.
are they also so bright your ears will bleed?
I've seen one mention of them recently:
I like really the Grado GR10e, not bright to me. I think they are accurate, require amplification to get the best sound/clean sound. But can be played without amplification.
well, they aren't a cheap IEM, so it's good to hear they stand up!

what's your favorite thing and biggest complaint about them?
Grado released those IEMs like… 6, 7 years ago now?
I remember when they came out; folks called them overpriced for their performance. They were "good" just didn't stack up well against their competition. Most notably Head-Direct, who became Hifiman, and their $80-125 offerings.
I'm very surprised they haven't dropped in price; Grado must be restricting retailers.
Regardless, the IEM world has moved in leaps and bounds since then. I wouldn't be surprised that any KZ, Tin, or other sub $100 IEMs whip them away with the right sounding model.
My favorite thing is the size, very small and light in weight. Big sound from such a small iem, no distortion…so far. No complaints . I attached a comparison in size with the Tin P1, TRI I3 and OH10.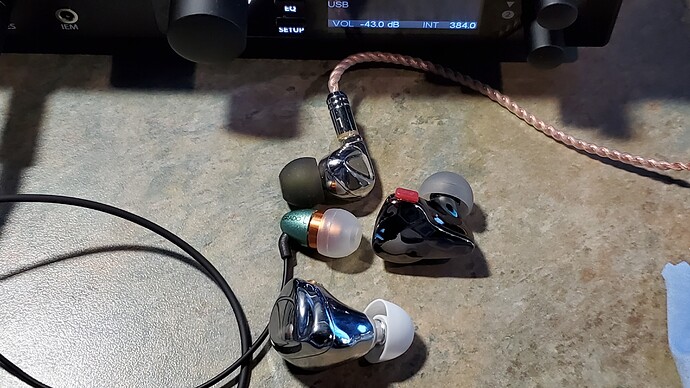 oh wow, those are small.
the reviews I've read give the GR10e two thumbs up.
I might have to look up their iGe3, as they're much more affordable.
Whoah the I3 is really big. Are they heavy as well?
They are not too heavy, not as heavy as the OH10
anyone know if the iGe3 and GT10e are the same or similar size?
I think the IGe3 is little be larger?
had the time to look up their specs on Grado's site and they bot weigh 9 grams…which makes me suspicious enough to think they're similarly sized.
however, there is still a chance one is bigger than the other as the iGe3 use a dynamic driver while the GR10e use what they call ';moving armature'.
is 'moving armature' just their spin on armature drivers or is it different in some way?
why do you say that? just because a product has matured doesn't mean it no longer performs or is lesser than newer options. just look at HiFiMan and how many talk about or even seek some of their older products…or Sennheiser with products that are extremely popular but have been around for more than 20 years and literally unchanged.
Yes from what I could find on the internet, possibly their spin on balanced armature?
While true, when talking about value propositions, they weren't a good value when they came out and definitely aren't now. Maybe used? Sure.
The argument of "this old thing is being talked about" mostly comes down to the lack of new products. Sennheiser brings out a new line of products that succeeds the old, so there's no reason to buy the old unless it's cheaper or better. Hifiman has kinda left the IEM market to focus on headphones (as small companies must make compromises).
Grado just hasn't bothered advancing their IEM game, probably because of the stiff competition coming from ChiFi that they faced as soon as they released their IEM lineup. Couple that with an American company trying to compete, they gotta come out with something amazing to make consumers consider the higher prices.
I'm not saying they're bad, not saying folks can't enjoy them. Just saying the IEM world has evolved and there's a plethora of IEMs that are cheaper that match or exceed them. Compared to the crawling headphone world advances, IEMs have skyrocketed.