Which are best bass headphones under $300? Which is the indisputable king of bass
I'm not sure if there is an indisputable king lol
A few that do bass would be:
T20RP MkIII
1more Triple Driver Over-Ear
beyerdynamic custom game (with slider closed)
I dont think there is a king but I can list some known for their bass meze 99 noir, neo, classic, fidelio x2 hr , dekoni blue, and dt 770
I mean at this price you could swing an x00 or nighthawk (biodyna bass is fun)
The nighthawk with suede pads has crazy fun bass. Really liking them now.
JVC HA-SZ1000 in the used market. Don't expect much other than bass though.
Needs to be EQed, but not really that bad.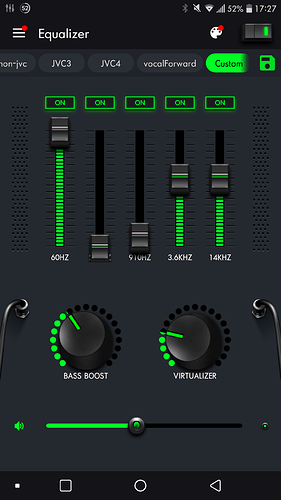 This would be a good starting point. +15db at 60hz, -15db at 230hz. The phone is a LG V20, but any portable amp should do. You'll need a desktop amp for the best result.
Reviews
Head fi
Zeos
Bad guy good audio
Not King by any means but the Sivga 006 do bass/low end well. No complaints for under $100
I would say the Nighthawk has nice sub bass, but it isn't a ton of bass like with something such as the 99 Noir, but the bass quality is higher I think.
There are so many factors in determining this contest.
Quantity vs quality?
Narrow or wide?
Sub-bass, mid-bass, high-bass, or just overall extension?
The Beyerdynamic MMX 300 Mk Gen2 with a pad change are really good apparently.
Modhouse Argon Mk3
1More Triple Driver "Over-Ear" (not really actually on-ear)
Nighthawk Carbon w/ Suede pads
If I think of anything else, I'll post.
x00 purplehearts are awesome
Heard a lot about those, the higher end Fostex models seem to be very good.
Shp9500 w/ori Lambskin pads and tuning foam
Are they the best x00 for bass? Some reviewers have said ebony …
I personally think the purplehearts have the most, ebony is more refined though
Are the Philips Fidelio X2HRs bassy headphones as well? I saw a review or a video of it being made by Joshua Valour and apparently it is a bass can despite it being open back.
Seconding Fostex X00 for bassheadery.
They are very bassy indeed. I just tend to think they aren't refined enough for my tastes
Though, for an open back it's not bad for being able to have that bassy sound. Usually open backs don't have that much bass or something right?
X2 are bassy but the treble response is very rough and grainy. The shp9500 with a pad swap and tuning foam has more bass and is still clearer and smoother than the x2.