Throwing down the Gauntlet!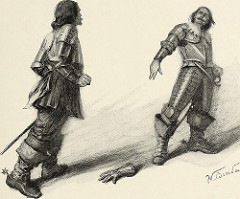 (Because I really want to know)
This Challenge has requirements. (just like Boxing)
Truly Unlimited Price. 1 dollar? 1 million dollars? It doesn't matter! Can they be beat? (like I said, I want to know!)

Suggested speakers must fit into a package very-very close to (or smaller than) the Vanatoo Transparent Zero Encore's.
-Update: clarification - speakers can be no larger than 10" in any particular dimension. Passive speakers are fine too, but amp suggestions must be small enough to fit on a desk along with everything else and not dominate the space.
Suggested speakers must be considered by themselves (no separate powered subs!)

Speakers should fill a small to medium sized room with sound, mostly meant for a desktop environment or a small television.

This challenge is all about Audio quality and the ability of very small speakers to put out the best audio possible in a wide range of volume in this tiny size.
So that's it. I would love to hear thoughts on this and look forward to any suggestions.
Vanatoo VS All comers!
(if this post doesn't get any suggestions for a few weeks, i'm just going to assume Vanatoo wins by default)