This will be in regards to chi-fi IEM's.
Just getting into iems. My favorite is the Moondrop Kanas Pro.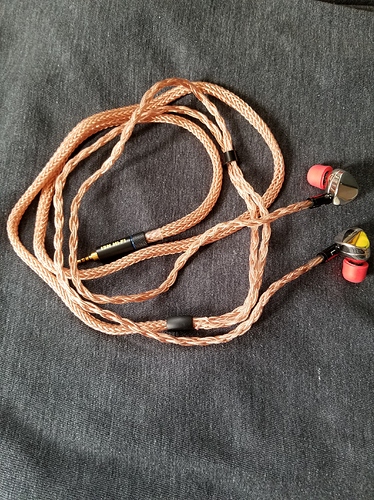 I'm liking it better than my Grado SR225, Takstar Pro 82's, and Massdrop Hifiman HE4XX. The pic is with an aftermarket balanced 2.5mm 16 core copper cable. Love the sound of this iem thru my Fiio Q1MK2 connected to my phone (using Hiby Music Player app) or thru my comp using Foobar 2000.
Just wondering where did you buy the 2.5 mm balanced cable?
I enjoy the IKKO oh-1. For the price it beats the BGVP DMG easily
The oh-1 may be my next I'm. Right now I switch between the t2 pro and the AS10. Lost a pair of Final Audio 3000. Also have a few older mainstream iems of a lower order.
Still deciding between the oh-1, Moondrop Kanas Pro, and the DM6. So many decisions. So many opinions also. May go with the money saving route…
I got the cable from Aliexpress back in March during one of their big sales. Sold from Penon Audio store. Picked it up for $50.
have the NiceHCK NK10. overall agree with reviews on headfi - the sound is big, spacious, detailed. Kinda 3D effect when you got them to fit right. Originally not many tips were included, so ordered some Comply TX500 (if im not mistaken). Original cable was bit shit too (better than sennheiser ie80s original though), so got a nice mega copper 7n pure cable fron same seller.
Overall for 300 bucks i am very pleased, massive improvement over the sennheiser ie80s which i had before.
(using them with Fiio X5 Gen iii, which was onsale month ago for 220 buck on ali

)
Oh-1 is really good for the price. I'd hold up just a touch longer. Can't tell more right now

If you don't mind me asking, why/how do the ikkos 'easily' beat the DMG's? Asking because I have a pair of DMG's and I'm very happy with their overall performance. Please explain in your opinion, why?
I said that because the mid bass was so present on the DMG that It made it fatiguing to listen too. It bleeds into the mids a little too much. The IKKO is more textured in the bass and punchier, but not in your face
Really tempted to order THESE

Fearless audio s8f are incredible! I highly recommend y'all give em a try!
I wonder if you can be a bit more detailed? I'm in the same situation…I have the DMG but want something with cleaner tighter bass and more present vocals. Would the OH1's do this? Or would you recommend something else. I'd like to keep it below £150
Thanks
I think so. I like them because they're more of a balanced sound compared to the DMG, even running off of a phone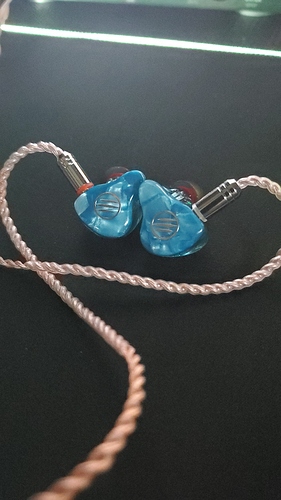 My current endgame IEM… BGVP DM7. Fun fact these are actually the ones Z reviewed, I was able to snag em in the yard sale for a good price. Luckily they're issue free unlike some units. I definitely don't agree with z's assessment of these, I feel he was a tad too harsh.
The resolution and detail these bring are very good for the price. I'm running them on my fiio m6 + thx aaa portable, and I picked up a tripowin 8 core silver cable on Amazon since Z kept the original cable, haha.
this thread should be pinned, chi-fi's the new hi-fi, IMO. nobody should be forced to spend thousands of dollars to get amazing audio.
on that note, excited to get the KZ ZSX, they've been getting great reviews.
(might get a nice replacement cable from aliexpress tho)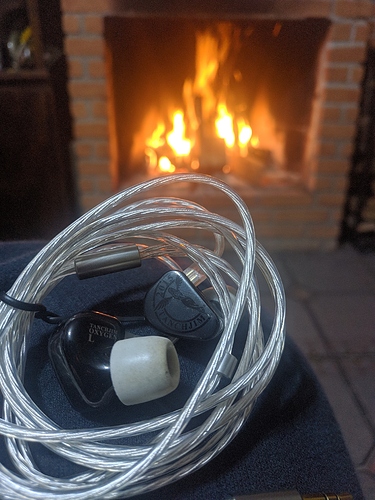 Been daily driving these bad boys for some time now. Solid, solid set, Harman-target headphones at it's best. They fit my ears no problem, but i can see with it would be an issue for some. Still, these with foamies are a godsend on my daily commute.
OK I just got my KZ ZSX. They're absolutely everything people have been raving on about, great bass, good treble, stellar imaging, amazing detail.
minuses: the cable is shit and makes the IEMs pop out if you haven't fitted them properly
Also it's one of those IEMs where badly recorded music sounds even worse. They bring it out.
For me personally, however, it took this particular pair for me to realize that I don't really care about bass and treble, I'm all about the midzzz. Not that these have bad mids, you can absolutely make everything out, it's just that they're recessed. And I want the mids to be the focal point of any earphone
Any top-mids recommendations?
KZ ZSX, TRN V90, and BLON 03 are the current budget chifi kings