Initial Impressions of the SJY Hinode (Wave Drivers)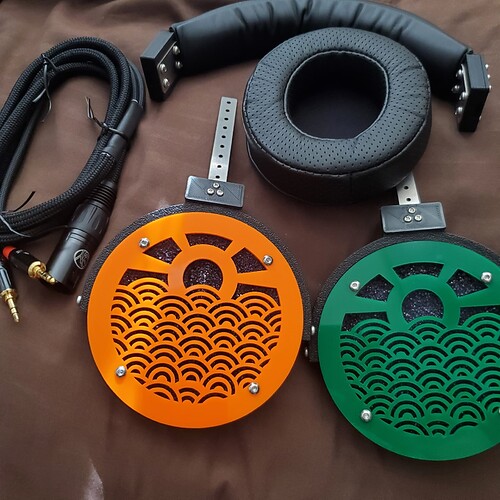 build- overall feels pretty sturdy but has some cosmetic issues and while the cup isn't hindered the cups do rub against the inside of the mounting "arms?" varies from just some friction to some actual resistance when cups are moving/being moved, there's some "what I assume is) driver crinkle if you've tried a Hifiman XS it's a bit harder to cause than that (shaking head, taking the headphones on/off)
comfort- really good not a very heavy headphone, headband is Beyerdynamic style (770,880,990) so easy to replace as well, earpads have a pretty thick foam on the firmer side
Sound- lands between a Sennheiser 6XX,600,650 using Dekoni hybrid pads and a Hifiman Sundara, on the warmer side but still has the sparkle it needs, stage width is on the more intimate side but a bit wider than Senn's 600 series, height and depth are more akin to the Sundara.
So far finding these to be really enjoyable linear driver impressions coming soon
I think it's kinda awesome to be one of like 50 people that will have some of his early work.
people that have supported both of them so far are certainly going along on a journey.
thinking about selling a couple of my less used closed backs to support the 3rd
I want to do the exact same thing but I won't be around my gear that I can sell till February. Damn work trips.
Linear first impressions
build- slightly worse than my waves, even more difficult to tilt and the right cup has something wrong with the 3.5 socket, couldn't get my Xinhs cable that worked fine on the waves and left linear to snap in but the stock cable was fine.
sound- "fun sundara" loses some of the bass rumble the waves have but still maintains a similar level of impact, staging seems a bit better as well (probably less space being taken up by the bass lol)
Very interesting! How would you say the detail retrieval is compared to the 6X0 line?
been a while since I heard 660s so can't speak for that but everything else - wave is slightly better, linear is even better
strap = better comfort for the top of my head but increases clamp a bit
Wow that actually looks legitimate. And comfortable
yeah linears are better all rounders imo
Yeah the veiled hollow sound the waves have just made things sound a little odd. Not bad just not my cup of tea but dang the linear liven everything up a bit. It definitely reminds me of my LCD2CB but a little less dynamic.
I bought on Starry Nights and people who have purchased SJY headphones what estimate on building the units?
My last units took a few months. Keep watching your email for updates and don't be afraid to email Jeffery about his process.