Hey HFG, we've been hard at work on some larger updates to the Hart Audio Cables experience and I wanted to share here for those that don't get our newsletter or follow the socials. On that topic, I pretty much only frequent HFG on a regular basis, so if any of you feel like it'd be good to copy / paste this to any other interested online communities, feel free! It'd be greatly appreciated.
So we've got quite a few things that went live on the site last week / are still rolling out, among those:
CUSTOM SHOP UPDATES

For me personally, the idea of having to send a quote request in and then dialog with someone here before getting my custom order in place would be a borderline show stopper

. Back when things ramped up (way quicker than I anticipated) we had to put this quote ticket system in place to help manage the amount of requests we were getting. I'm grateful that so many people don't seem to mind this and are willing to be patient in that regard to get their orders set up. As time's gone on, we're now able to handle much more, so we've done away with only accepting a limited amount of order requests a day, and have begun rolling out customizable versions of all of our products. You can now choose length / termination / colors right from the product pages in our Custom Shop, and at least for simpler orders, avoid the quote request queue. We still don't have everything added quite yet, and if you still have something in mind but don't see it, by all means use our general quote request page and let's make it happen! Oh also, not sure how familiar people are with the customizations we can do, but you can order braided and thick braided cables directly from the site now too. Pics of those below:
REPLACEMENT LINE
I don't know why, but for the last 2.5 years we'd focused so much on our stock modular cable system, and the custom orders we can do, while seemingly overlooking - what I feel - is the need for some simple, basic replacement cables. You go to hifiman's site or Fostex's and they're asking $75 + for the basic replacement versions of the less than stellar cables that come with their headphones already. So we spec'd out our Replacement Line. These are basic, ready made cables (still same oxygen free, mogami copper inside, still made by us in the US), that will hopefully serve as a quick, easy replacement and/or upgrades over ship-with cables that come with many popular headphones / brands.
NK SERIES
Calling it the NK line because Google / Socials would not be happy about us having 'naked cables' all over our product descriptions. Super excited about this. Currently only available for our IEM Cables, our "PC Line". But there's nothing stopping us from rolling this out for our other cables we do in the near future, (how 'bout an 8 core version!?). But for now, this is the starting point.
NEW PRODUCTS
In addition to the above product offerings being added. We've added a couple new 'core' models to the modular line. The HC-14 and the HC-15
HC-15. We've had a lot of people continue to ask us about a cable for the Focal Utopia headphones. We used to have this on the site last year, took it down, happy to bring it back. Personally, I always enjoy being able to offer a cable at a reasonable price vs the $300+ stuff brands are trying to convince people to spend on this.

HC-14. Finally, a cable for the Meze 99 series headphones. Should've had this up a long time ago.
SHOP BY BRAND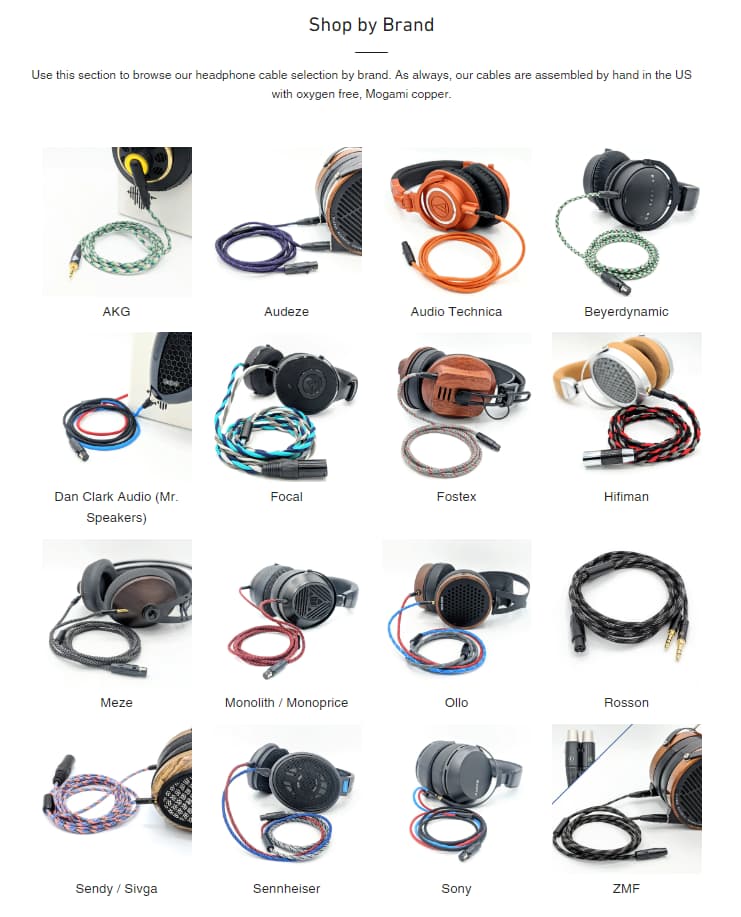 When I first started the shop, I really thought I had a simple layout for the products and a limited product offering that would make it easier for people to find what they are needing. But over time it's become clear that we could do more, especially after the product lines have expanded. So we've tried to create this new Shop by Brand section of the site where our product can be filtered accordingly. Click on Fostex, it shows you all the cables we offer that play nice with Fostex cans. Click on Hifiman, same deal. Hope it helps! Of course we'll be adding more brands as time goes on. If there's one that you definitely think needed to be on there, let me know

.
IS IT OVER YET!?
I think that's about it for now. If you made it this far, thanks a ton! Apologies if this sort of stuff from brands in the space is a bummer. We try to make sure we're not wearing out our welcome. In case you're looking for other stuff from us, here's what else we're working on going forward:
More custom shop updates
We're working on a Premium line of cables. Silver cable, Silver connectors, non-absurd prices
More new products, hopefully ready VERY soon
A bunch of other behind the scenes stuff
OH ALSO, for HFG members, use the code HFG22 at checkout for 10% off your order. Sorry it took so long!