I need some help in discerning what happened to my Amp.
I plugged in two headphones in each of the outs and have been listening to both for a few days this way, A/B ing and generally enjoying them.
The amp is LP G109 and puts out 590mW at 600ohms.
The two HP's are Sundara at 37ohms and DT880 600.
The impedences are different but the same volume is achieved with a difference of 3-5 volume knob clicks depending on the track.
Everything was fine until last night when I started to hear distortion on both. I turned off the amp which had also gotten very hot, although it hadn't happened before last night.
When I turned it back on again a couple of hours later to see if there was any damage it would only put out noise, no music and hen slowly started to play vey noisy music and only to the left earpiece.
It's clearly damaged but I don't know why: it (almost) definitely has to do with Driving two headphones at the same time and I'm inclined to think it's because they are of different impedences, although I revised the Instruction manual before doing so and there was no warning about this. It also mentions that it can output up to 2000mW at 80ohms. I don't know if that last bit is relevant.
I opened up the amp and found that the underside is the aluminum cover had light burn marks above the side where the (I think) transistors are, not the big blue thing but the other side that has more space.)
Here: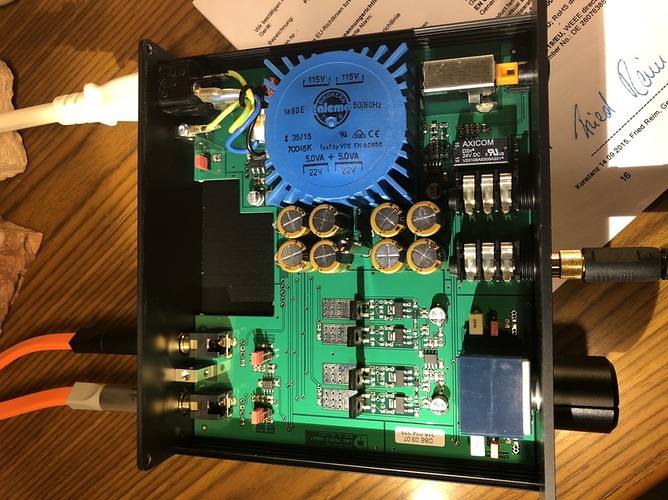 So can anyone
explain what happened
tell me what I can do to fix it
Appreciate the fact that you've gotten this far into this post. So thanks for reading it.