Those of you with more than two headphones how do you organize them? My desk is so cluttered.
Help!!
multiple headphone stand and I put the one Im currently using on my mic stand
By where ever the fit in the house. Iems get put in a drawer though
I use an Omega stand for my current set and a HamiltonBuhl headphone rack for the others. The Hamilton is meant for classrooms so it's very sturdy and fits about 4 full size headphones for ~$40
I have a rack on the wall behind my PC monitors. Easy access and looks good.
Pics?


123456789012
Desk drawer so they don't get dusty. I don't like their resting position compressing the pads but the solution to that is still in the concept phase. (Basically I want to hang them on pant/skirt hangers trimmed to size, with the ends of the hanger pressing just above the cups and keeping the pads apart, but not sure where to hang them so I still get dust protection. Might just say 'fuck it' and hang them in the shirts closet.

)
I have a small dry box that I keep my important headphones in, the rest of them sit in a dark corner of my room, as an example to other headphones that do not please me.
yall got any set up pics?
I'm staring to think maybe my little corner of shame ain't that shameful lol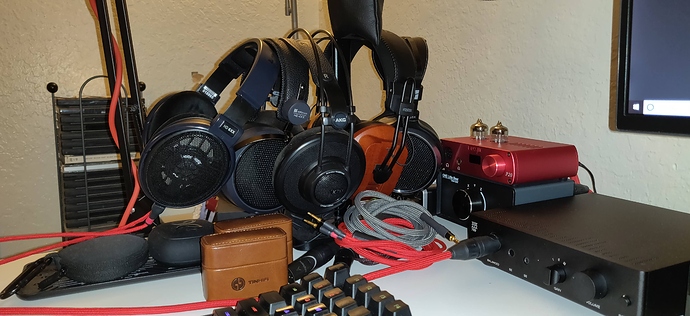 I have all my hf packed away, bacause of dog hair(safety first) and get them out, the moment i use them
my Elegia lives in my backpack in his case for every day office use - so does the iem of choice in a Fiio HB1 case with Earstudio ES 100 and the ifi xDSD is in a Peli Micro Case 1020 with all otg cables and adapters
I bought a bigger house, that helped. YMMV💪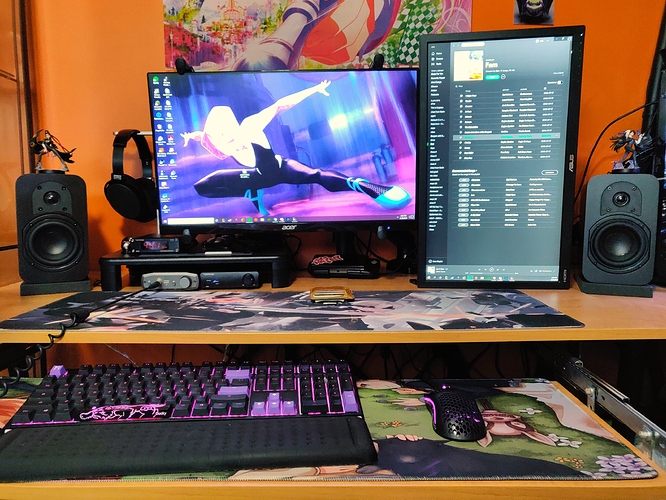 Here is mine taken a few months ago do t wanna show the current state of mine Havent cleaned it in a while there is another pair hanging behind my monitor and out of Frame my 990' hanging on my mic stand. I keep several other headphones I don't use in box or Letting mlitfle brother use them for gaming
Is that keyboard a ducky one 2? Looks pretty nice

I've been looking at getting a good mechanical keyboard
yep it's quite pricey but probably they best mainstream cherry mx board. but if you want to look into building your own and messing with your own switches like kailh , kaihua gateron I would point you towards the glorious GMMK
I have really been eyeing the topre realforce RGB and some nice pbt keycaps to go along with it, but I still can't decide. Ducky was on my list, but they are like out of stock for the one I wanted and I don't want to wait like 2 months
Also tried a gmmk and just didn't feel as good as the same friends leopold
well GMMK completely depends on the key switch used. leaopold and ducky are excelent brands with great build quality but like always it depends entirely on the key switch used I will expand on that oin you DMS cause this is off topic.
Mine were being quite a mess with the rest of the gear. I bought a cabinet for everything.

Now I have my gear on top. The drawer is full of cables, ear pads, opamps, tubes, decibel meter, etc. The lower part has one shelf and quite easily fits six pairs of headphones. And this is next to my lazy boy.
Shane D