if you do, provide it by listing the methods and equipment you use.
I do! I buy my coffee from Costco and brew it in a 10 year old Cuisinart coffee maker.
Yes indeed…been scary…what's in the grinder today is from Las Vegas Roaster - Vesta. I'm back home in Singapore now tho and here is the rig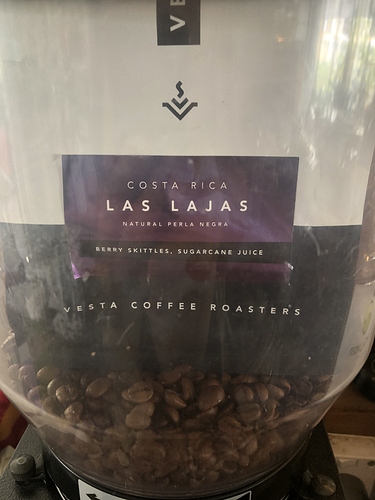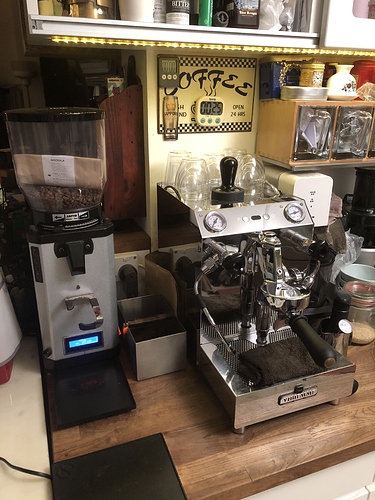 Caffeine and cans …

My coffee making progression:
Cuisinart Brew Central (stopped using over 7 years ago)
Keurig B70 Platinum (used for about 6 months)
Single cup pour over - the goto, used for about 6 years
Frech Press - (used less than 15 occurances)
Aero Press - (pain in the butt, tried to like it)
Moka Pot - (if in the mood to make espresso)
Chemex - currently my daily driver. This or pour over.
I prefer to buy my beans whole, and use a Burr grinder prior to brewing.
Usually would get what's on sale any of these dark roast beans:
Starbucks: Verona, French Roast, Italian, Sumatra
Peet's: Major Dickason's Blend
Philz Coffee: Jacob's Wonderbar, Ether, Julie's Ultimate
Intelligentsia coffee: El Diablo, Black Cat classic
Cafetiere…French or Italian roast


Beyond the survival-coffee I have to drink at work every day, when I want something really good I make my own cold brew out of ground coffee of various kinds (but I tend to stick to Lavazza), 5:1 volume ratio, 14-hour room-temp brewing, then refrigerate (for some reason it tastes better than drinking it at room-temp). Perfect summer coffee. I filter out and drink as-is, no water added like some wimpy American articles say you should.

(Some people brew for 20-24h, but I find it way too bitter if it sits that long, I really need to stay squarely on the sweet side of my coffee, and cold-brewing is the perfect process for bringing out the sweet flavors.)
Have yet to try hot-brew insta-cooled through a serpentine as it comes out, a.k.a. Japanese iced coffee (Heisenberg's non-Jesse lab assistant was making that in Breaking Bad if anyone remembers). Someday.
I bought a Baratza Vario grinder about 8 or 9 years ago and have mostly done manual pour over, which is my preferred method, the Chemex being my go-to, with a v2 Able metal filter. for beans, I try to buy Doi Chaang. I roasted my own beans once and would like to do that more…but lazy.

I had an aero press and disliked it. I had a espro press dual filter french press, didn't care for it. bought a Frieling and both my wife and I really like it.
one day I hope to get myself a Rocket Cellini or Apartmento.
I'm considering this. Either for myself or gift. It seems interesting enough.
High end or low end even John loves his coffee



I don't know if I spend more on audio or coffee related paraphernalia.
If I had to choose headphones or coffee, I'd choose coffee.
Equipment found while de-cluttering kitchen before the holidays: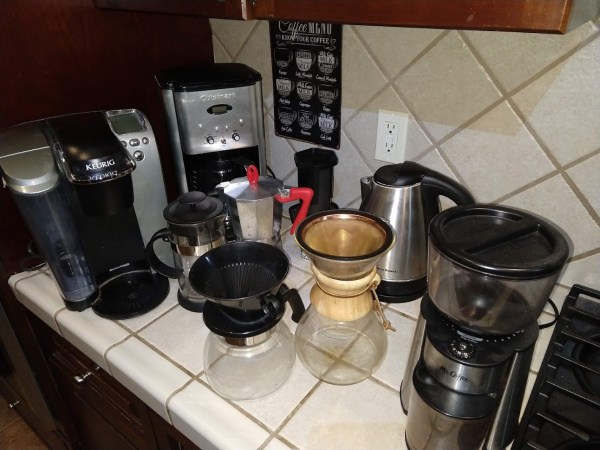 Today's achievement: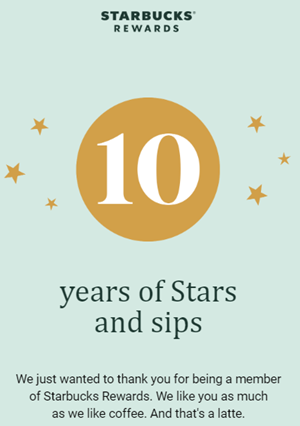 oooh…I dunno if I could choose between the two. you can make coffee amazing beyond belief for under $200 (Chemex, Metal Filter & Electric Temp Controlled Goose Neck Kettle) and while audio will be good at $200, it won't be as good as that cup of coffee.
edit - I guess the above does show I can choose…LoL!
I highly recommend Go Get Em Tiger's subscription. They are an award-winning shop, fairly priced, and sent me a Gesha this month.
I have a countless number of pour over preparation methods, but fall back on V60.
I would recommend Kalita Wave or Aeropress for anyone that is new into it.
Coffee is my blood type. I grew up making Greek coffee for my father and I.
I'm from Cleveland and there is a micro roaster in town called Phoenix coffee. Their stuff is dynamite, but their house blend (Firebird) is the best. They ship all over as well.
I totally disliked the Aeropress…and the Espro Press. most disappointing coffee purchases I've made.
I have the Chemex and a metal filter, so just need the electric kettle now. I'm thinking of this one:

I recommend getting a Bonavita electric gooseneck kettle. They frequently go on sale and my two have lasted over 8 years so far.
Another sub that I recommend is Ruby Roasters from Wisconsin. It's another superb value and they send out 2x 8oz so you get to taste two new things per month rather than 1x 12 or 1x 16oz.
I will add that I rarely touch my Aeropress though. The two huge advantages is that you can throw it into any luggage for portability and its fairly dummy proof (for a newbie).