Giving the nano iDSD BL it's own thread…
Just received mine today. It is my 1st headphone amp/dac.
I saw on another thread that you were looking at other DAC/AMPs, what made you pick this one over the ifi xDSD?
1st reason was the size. 2nd I did not feel I needed all the options of the xDSD. 3rd I am undecided on a desktop setup and I wanted to get started with something portable until I choose what else I want to get.

cheers, i'm still deciding on the two myself.
Felix
I have only had it a few hours, so still doing some listening tests… but my 1st impression has my ears happy… I am still using my Sennheiser 4.5 headphones. My 58X's are still enroute…
lucky you, I broke my Shure se425 last week so I'm stuck with the Sennheiser 650s until I can buy a new pair of IEMs. Im looking at the Audiosense T800
I can only listen to iem's for a short period of time, they mess up my ears… I ordered the 58X's off massdrop.
lots of people have that problem, I actually prefer IEMs, I don't know why. I travel a lot so I suppose I have just gotten used to them
I hooked up the Nano to my Win10 computer… zero issue… I plugged in my Bose SoundLink Mini and it sounds amazingly better. It always sounded good for a small speaker, but going thru the Nano it is like a completely different speaker…
I have it too. I'm using it with my laptop as part of my "evening set". Im using it mostly with Koss Porta Pro and Hifiman HE4XX. flawless sound, nothing to complain. The planars could do better I think with more power. But overall very satisfied!
I compare it with Q5S, that I also have and on USB I like more the Ifi. Q5S has the Bluetooth and the balanced output - so it's my desk set up. I like both very much, can't decide which one I prefer more.
I have the HD58X's on the way, can't wait to get them and start listening with headphones on a new level…
Well get ready, and I hope you like it lol

My HD58X's arived today… I just started listening to them thru the Nano BL streaming Spotify. All I can say is… best $380 I have spent in a long time… My ears have goose bumps…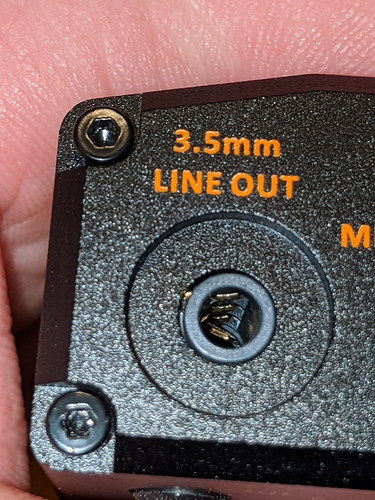 so I picked up the nano used cheap to fuel my desire for something new, taking a close look at the unit before I use it at all and I noticed the line out port has pins for a trrs 3.5mm. I knew the headphone ports were 3.5mm balanced but I didn't know the line out port was also. Is it actually a balanced line out? Anyone know?
Seems like a lack of documentation about it.
nobody knows? where are all the nano owners at?
Yes, it is a s-balanced output as well
Interesting, I feel like that should be a bigger bullet point for this thing. Only reason I went for this over the hip dac was for the line out, had no idea it was a balanced line out.
Know of any cables to utilize the balanced line out?
You would need a custom cable that would be 3.5mm trrs balanced to xlr, not sure where you would get one of those lol
One of those and then a 4pin to 2x 3 pin?
Hmm I guess that's one option. I just emailed Hart to see if they can make me one. I'm liking this thing enough already to warrant that cable purchase.
Also, just some quick impressions. Unit is way smaller than I thought it was. Plenty of power for NDH20s. Haven't tested it with my other sets yet. So far, I'm liking the sound and the form factor better than the Monoprice THX portable.