Interested in this one. The graph that's floating around doesn't look great and the passive radiator concept seems a little questionable. With how well the ea500 is faring, it's hard not to be curious
I Guess mostly that it's a new concept in iems. It's been used for ages with speakers though. At this point I would have expected it had been tried before and hadn't been used for a reason. There's a lot less air movement for iem's. So not really any concrete reason to be suspicious. I don't have any experience with Simgot, they have a good track record.
yes, you are right. Not a new tech in the audio world (speakers/headphones) but might be the first I have seen in iems.
My worry with using it in iems, is that there might not be enough backwave sound from the DD and small chamber volume to fully utilize it to its full potential. Aka, at worst, it might just be a marketing gimmick and the "driver" itself not being hearable (like KZ BAs).
the ea500 uses a 10mm DLC driver diaphragm. The ea2000 is 12mm, but I haven't been able to find what kind of dd. Was the ea2000 released first, followed by the ea500? From the website it sounds like the ea500 is based off tech developed for the ea2000.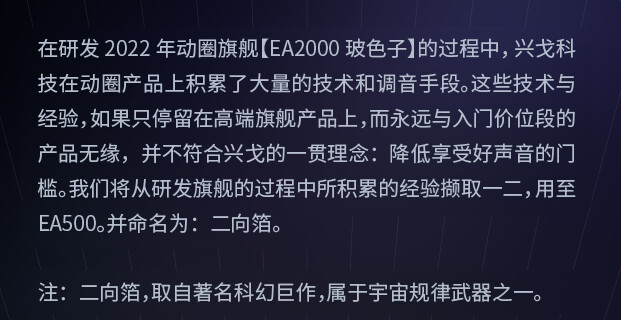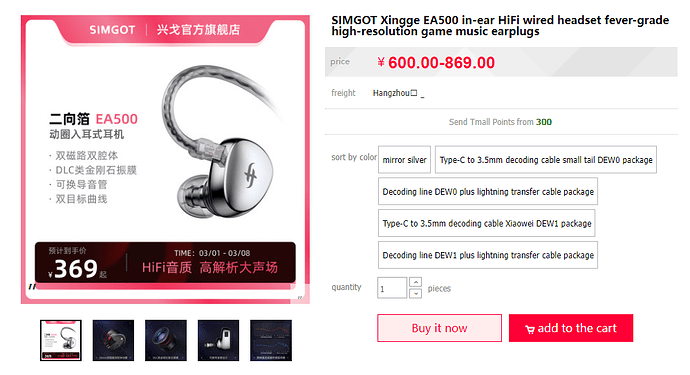 Translation:
In the process of developing the 2022 dynamic flagship [EA2000 Boson], Xingo Technology has accumulated a large number of technologies and tuning methods in dynamic products. If these technologies and experiences only stay on high-end flagship products, but never have access to entry-level products, it is not in line with Xingo's consistent philosophy: lower the threshold for enjoying good sound. We will extract one or two from the experience accumulated in the process of developing the flagship and apply it to the EA500.
Yep, the EA2000 was first, then they trickled down some of the tech into the EA500.
No info on the EA2000 DD diaphragm though, but they do mention this about the bass radiator.
"12MM full frequency moving coil active unit + 6MM light composite diaphragm"
"When the large-diameter moving coil diaphragm vibrates under strong magnetic force, the airflow and sound in the rear cavity will cause the passive diaphragm to vibrate and reflect slightly. Fine-tune the bass texture to add a certain more realistic low-frequency natural dispersion. It provides EA2000 with reference-level low-frequency characteristics with both volume and texture."
Will be interesting to see how it actually graphs but seems like unless you mod or EQ it it won't be tuned well enough

I just got the EA2000 from Amazon couple days ago. My first impression was it sounds like Moondrop Chaconne with a tiny sub woofer. Open, clean and flat with sub-bass rumbles. It's an open-back IEM and more open than Raptgo Hook X HBB. Feeling of sub-bass is different from other IEMs (no more ear hole itchiness) like immersive??. I guess because of the open-back nature, more natural and close to speaker like sound.
OOOH I am looking forward to this one!
Good or bad, it feels like it's going to be something. And that's nice to see something going for it!
From the Chinese review of EA2000 in that reddit page:
The voices of EM2R and EA2000 have their own characteristics, but the sound is universal. Sexually, EA2000 is indeed stronger. Imagine that many people probably bought EM2R and EA2000. They have two "clear doors" in their hands, and finally no one is reluctant to give up. 作者:儒雅韵改 【夜听】兴戈/SIMGOT——EA2000主客观体验报告 - 哔哩哔哩 出处:bilibili
Auto-translate is the best! Never change!!!
Sexually? lol

@hawaiibadboy can it be possible to share how to mod EA2000 with "tuning filter 450"? Is it nozzle filter? Thanks for the YT video btw.
You take the filter on the nozzle off and put a piece of tuning foam like this in the nozzle: US $4.61 37% Off | 50pcs Earphones Tuning Foam DIY Earphones Sound Tube Tuning Cotton Dustproof Foam Filter
https://a.aliexpress.com/_mKJH6tg
Then you put the filter back on
Thanks. It looks like the foam filter has no numbers. What about this filter on the top of the nozzle?
US $4.61 37% Off | 50pcs DIY Tuning Papers 200 250 300 350 400 450 500 Mesh Tuning Cotton Pads Earphones DIY Adhesive Papers
https://a.aliexpress.com/_mNUFeKS
So remember how @hawaiibadboy got the EA2000, and wasn't super impressed, then modded it and then said "he was enjoying it"?
I think I can answer why: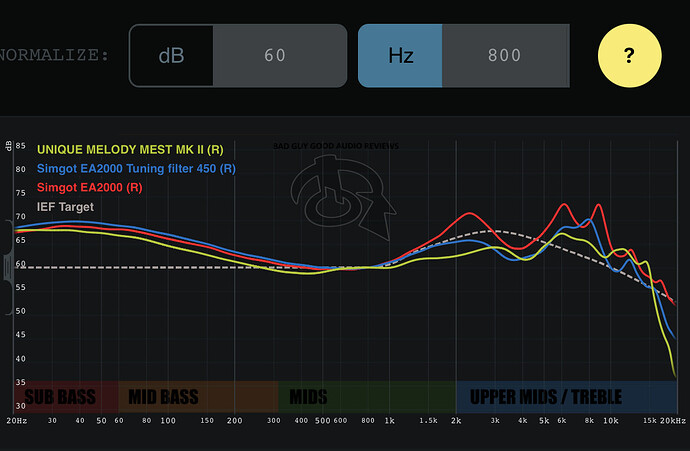 The modded EA2000 graphs pretty close to in line with MEST Mk II. Yeah, that might do it