So pretty and seems to have great performance. Roll on more reviews

They're a bonny set for sure

and yes we need more reviews

The very few that have received them are basically in line with what he says. Waiting for mine. I'll let you guys know once I get them.
Dangnabbit! Love my Fearless S8F but… These…
Thinking they might be a good compliment to my S8Fs so I just ordered them. Now the waiting and excitement!
Sweet

do keep us updated and what you think sound wise when you get them…a few pics would be cool too…enjoy

L9 looks like the most fun of them
L9 scheduled for delivery Wednesday. Ordered from Linsoul's US Amazon store and were shipped DHL within days. I bought the Quilted Cobalt as I generally like my goodies low key.
Pics and thoughts a must please

Has anyone received these and had enough time with them to give impressions? Wondering if people are feeling more like BGGAR or more like Crinacle did regarding the L9.
I have mine for a week. My impressions are closer to BGGAR than crinacle. That being said my iem experience is down to t2,t4 and guideray.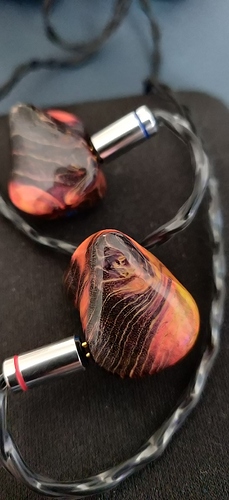 As in, you're happy with them and you'd highly recommend?
I'm happy with them. They do what I wanted them to do. Play well my rock stuff. However it is a warmer set and I can see how the bass might offend some people, as it can be a tad high and not tight enough depending on your taste. It's only been a week. I believe in honeymoon periods with this stuff.
I have been using them exclusively with my hiby r5 btw.
I'm currently building a playlist that imo the L9 shine for me.
Hey @Ohmboy and @beanGreen8, I've had mine three weeks or so now. Wanted to use them quite a bit before commenting. As @Xavilaw mentions, warmer and a little bass heavy at times for my ears. I've had many iems that were really good/great in their price ranges and eventually fell in love with the Fearless S8F. While I enjoy the L9s bass impact the units lack the overall detail of the S8F. Even the bass from the S8Fs seems to have more "definition" if that makes any kind of sense. I do enjoy the L9s and plan to keep them. I have found that depending on my mood and the music I'll be listening to I choose one over the other: Working out, super energentic mood I tend to listen to poorly recorded/compressed old rock and I appreciate the L9s for this. High quality recordings, more mellow and relaxing mood I choose the S8Fs. I just love the detail, sound signature, fit, and quality of the Fearless… Would I recommend the L9s? Yes. Qaulity, sound great, fit well… I'll be keeping mine.
*I use a Hiby R6Pro playing flac files (some bought hi-res, many recorded from CD's) and balanced cables.
Pic of my Hiby R6Pro and Fearless S8Fs (top) and Thieaudio L9s. The L9s are the quilted cobalt color and are very dark in real life. You can see the "quilting" in the sunlight but they are very subdued (love the color).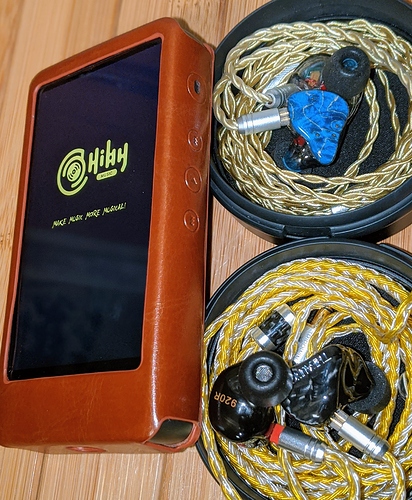 Close-up of Quilted Cobalt L9. The camera flash shows the "quilting". I real life they are darker. I really like the color and fit.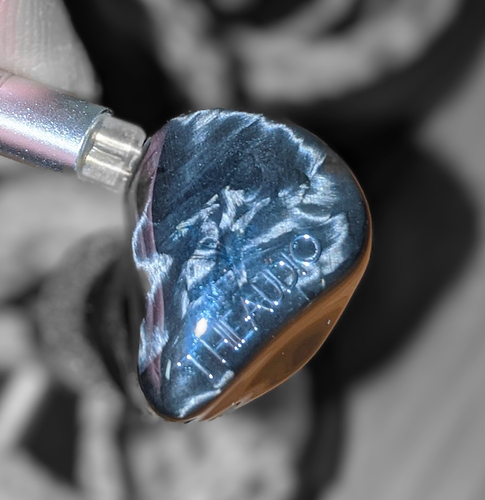 @Corwin my man, thank you so much for the detailed feedback.
I'm still going back on forth on which I plan on grabbing, between the S8F (or perhaps S8z) and the L9s, and your feedback is really helpful. I listen to a really wide range of genres…from English folk music to dupstep to noise rock to hip-hop to mathrock, and since I've started buying IEMs I've been a "one set" guy rather than a collector. So I'm looking for something of an all-arounder that's going to feel like a nice step up from my trusty old FLC8s.
The FLC8s, which I guess aren't known for their bass (but do have a DD), blew my mind in terms of bass when I first got them and still often do. So even though I listen to very bass intensive music sometimes, I don't know if I'd consider myself a basshead and worry that maaaybe the L9 would be too much bass. But to be honest, I don't know haha. i don't think I've ever even listened to a high-end bass heavy IEM. But I do love the sound signature of the FLC.
But every time I start thinking, ok I guess I should just grab the S8F, I start worrying about losing that DD, and the hiss people have complained about, and perhaps an overabundance of detail. Do you ever find the S8Fs to be fatiguing? I often end up listening to music for hours on end and the thought of treble being so detailed it gets uncomfortable after a while has made me wonder if the S8F's are right for me. Plus (huge confession here), I almost exclusively listen to AAC files haha. I know it's pretty perverse to be listening to compressed files on headphones this nice…but there it is. I wonder if the S8F's detail reveals will make all my tracks sound terrible if they're compressed? I literally don't know haha.
Any guidance would be much appreciated dude. Thank you so much and I'm glad you're enjoying both of your sets!