I am LOVING the Vector Synth. This thing is everything I hoped it would be, and the setup (MIDI config for my DAW, binding of polyphonic aftertouch to controls, etc) is a breeze.
If you've ever owned or operated a synthesizer, whether software or hardware, you know that not every synth makes sound design (creating presets) a simple affair. Some synths have many pages of controls and UI stuff, and it can be overwhelming. Others are more focused on sound design.
The Vector synth, while having what some could call an overwhelming amount of UI features along with a novel style, has actually intuitively focused the RIGHT controls in order to allow the producer to quickly (less than 15 mins of learning) become proficient with sound design, performance controls, and even more advanced routing and controls. The 7" multitouch screen is very good, very reliable, and lends itself well to the aforementioned focused design philosophy.
My glorious new fully MPE Vector synth! It arrived in less than 5 days… FROM CZECHOSLOVAKIA!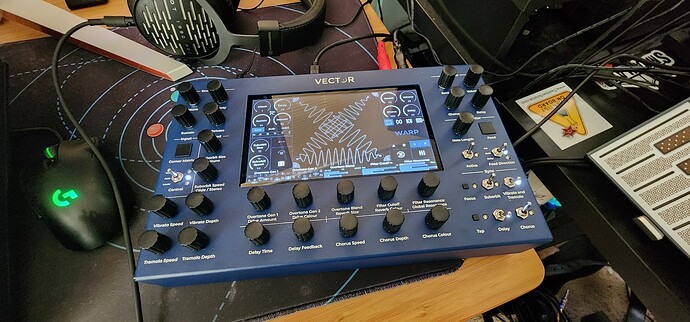 One critique: the Vector synth's line out or headphone out both develop what sounds to me like digital distortion if the internal volume is turned up too high. I realized that if I plug this into my audio interface's regular line level inputs, which do not have analog gain control, I have to turn the Vector's volume up to around 60%, which introduced some light distortion.
So I swapped inputs, and took over my 2 main analog inputs (guitar and mic…), switched them to line-level, and used their analog gain to boost the input signal from the Vector. With the volume down around 30-40, there is no distortion ever, but the high gain analog inputs pickup a little hiss because of the gain. Its not a big deal and the hiss is very low, but this is a fact. I swapped cables, power, etc, and this is all consistent, and I dont use any USB hub for this, so I think it is the device.
I give this synth 9/10 so far, with the -1 being because of the distortion. My microKORG XL+ and my Arturia Microfreak synths do not generate any distortion on any input in a similar environment, same power circuits, etc.