there are artists , albums , or a pieces of music that I never go back to because the elicit certain emotions memories or times that are behind me or flat out are just overplayed by you or the public and listeting to such music is oftentimes off-putting or curves my temporal tempo and will cause me to flat out drop it.
but there is music that has been with me since I was very young and no matter how much I come back to it I never tire of it. That is the album, in the aeroplane over the sea.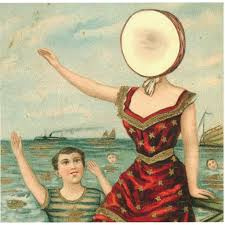 it's poorly recorded, flawed, yet if it was any better I don't know if I would still like it. it still elicits the original visceral emotions I fee when listening to it. it has a consistent sadness, and often odd abstract serreal lyricsm that builds a sald yet colorful world., each song is different yet perfectly cohesive. its songwriting in it's purist. it doesn't try to be super different and doesn't try to stand out it just does. If you haven't heard this album beffore I do reccoemend it. it's definitely not for everybody.
what is that artist, piece, or album to you where not matter how far you get from it you find yourself coming back to.