What do you guys think is the one trick pony iem or your favorite iem?
because of the absolute value of the thing, mh 755's are my fav
Unique Melody Maverick II re
Pros: They have the most spacious and holographic sound I've heard, with more width than depth, a beautiful and natural reverb, a linear bass with slight sub-bass roll off, natural mids and great vocal presentation, smooth and resolving treble.
Cons: slightly large like the mid/upper tier Oriolus line, 500 units commercially available only to Japan (but no problems since I live here), north of $1,500USD at time of release (Can be had used for about $1,000USD), limited isolation due to two vent ports on faceplate.
They are relegated to special occasions and now my EDC is the AAW AXH Holiday Edition which is more intimate, warmer, elevated treble with sparkle, and lip smacking detail.
I've only tried 4, the TIN T4s are the best out of the ones I tried. The Blons are hardly a one trick pony but they are the most genre specific out of mine
Well my favorite ones are the current ones I have.
Shure SE215 - A bit dark for me when it comes to sounds also my first IEMs to get. What I love about it is the superb sound isolation I get from it and as well as its durability, good for commutes.

Tin HiFi T2 - My 2nd IEMs, and still my go to IEMs to use for most of the time. I love its neutral sound signature and minimalist design and all I can say it is better than my SE215 sound-wise.

KZ ZSN Pro(formerly) - Technically my 3rd IEMs, but I have decided to give it to my dad as a gift. Also the treble from it is too sharp for my taste though overall it's a good pair.

KZ ZS10 Pro - 4th IEMs to get and an improvement to the KZ ZSN Pro, I love to use it when I want to have some fun to the songs I listen to and its balanced sound signature is what I like about it. The trebles from these are still a bit harsh but not as harsh as the ZSN Pro, but with some foam tips it resolves the problems of the trebles for me.

BLON BL-03 - My latest IEMs and man oh man this one has exceeded my expectations for the price. Goddamn the sound signature for me is like the mixture of the ZS10 Pro and Tin HiFI T2 with some refinements being done to the sounds. Imaging, sound stage, amazing as hell and the bass, mids and trebles are just right. My main gripes with these are only the cables and stock tips, but with an improved tips and cables this can be a possible replacement to my Tin Audio T2 and those 2 go neck in neck.
Campfire Audio Comets I use them all day every day. And Campfire is a great company that actually supports the warranty if you have a problem. See my post on them below. Good luck on finding a Iem for you

FH7's…they're awesome and probably all I'd ever need tbh, but then there's the P1's…damn the P1's the slag of detail and speed my little bit of something on the side

Out of the KZ ZSN Pro, T2, MH 755, Shuoer Tape, T4, P1.
The closest to a 1 trick pony is the MH 755.
I'm hoping Tri I3 gives me what I want, but nothing is better than complaining.
The lcd i3. Mainly because it doesn't sound like a earphone.
QKZ VK4. Had my set since July. I thought I was mad, but they really are good. Check the reviews on YouTube. I've had the Blon, the Guideray, TRN V80, TFZ T2, and I still keep coming back to these. These are going to be Blon beaters, just you watch.
I love my Massdrop Plus so much I bought another pair. I do love the sound but what makes them perfect for me is the fit/comfort and the fact that they don't stick out at all. They're a universal that feel how I imagine a custom to feel. Other things I have/had are Tin T2, BLON BL-03, QKZ VK4, Noble X, Noble Velvet, NuForce EDC. At this point i've given up on finding anything "better" because I know there's not much on the market that meets my requirements of 1. Sounding good 2. Sitting flush in ear 3. Being comfortable, but if anyone knows of anything else lmk please!
Ikko OH1 & OH10 meets all of your requirements.
KZ ZS10 Pro
Fiio FH5
Both running balanced through a Fiio K3 or Earstudio ES 100. Solid sounds for modest investment.
Thanks! I've looked into them but kind of just passed by them. I'll have to do some more research! Thanks!
My favourite sounding IEMs are Aune E1.
Those beryllium drivers sounds so damn smooth.
It's a shame that you can buy them only in Poland.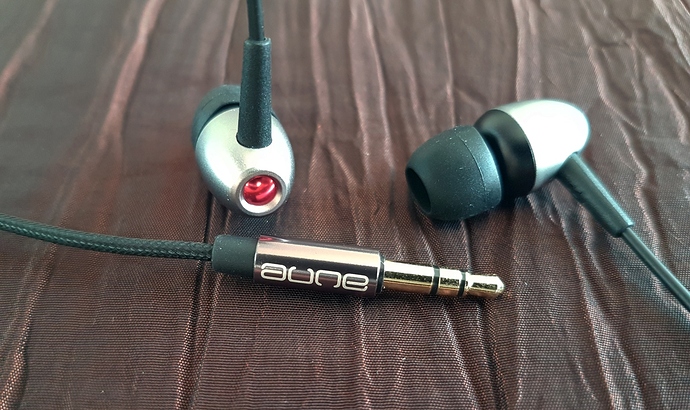 QDC Uranus is my daily now
My 64Audio A3e CIEMs are the best due to maximum sealing and the most clear and crisp sound of all my many IEMs. I plan to get either the A4t or the A6t whwn possible.
Right now, it's a three-way tie between the Shuoer EJ07, Moondrop Kanas Pro and Ikko OH-10. They all serve different purposes (who doesn't like some variety?), but if I had to choose just one, EJ07.
Obravo cupids. The meze rai solo is a close second. The cupids just have this unique sound that really make my music come alive, nothing I have or have heard comes close to what they do. I don't even know how to explain it either, it's wholly unique and different from anything else I've experienced.
I have IEMs on my list that can be my potential favorites, so far it's only 2 at the moment.
1.) Tin Audio P1s, for I have that many folks have liked those and for a price that is affordable that is a Planar IEM? count me in for that
2.) Shuoer Tapes, aka the P1 killers to some but I have to yet to hear it for myself if it's true or not but I think not. Also a good set of IEMs that is a good entry having an Electrostatic IEM.