DT 880 Score 7.6
This is one of those headphones i've been hearing a lot about. DMS first brought it to my attention commenting on how good it was. They come in many versions (check amazon) and have 3 different ohm selections: 32, 250, 600. I choose the 600ohm (160$) based on what I'm hearing that its the best sound quality of the 3. It is a bit of a pain for the amp. It requires a lot of volume. This can be bad because i forget i have the volume so high and when i plug other headphones in it blasts them. I think i may have damaged my Focal Elex.
SOUND
Clean clear light bright. Bass rolls off at 90hz. This is a bass lite headphone and you can hear that in the lightness. Good midrange. exceptional treble. And great treble extension. But sometimes it's sibilant, and sometimes very sibilant. As a matter of fact on some songs the treble and sibilance are so much and ive had to change the track. So not good all around headphones. It couldn't handle all the tracks on my Simple Minds testing playlist. Good detail. Fine dynamics. Good imaging. medium/wide soundstage.
One of the things ive learned from this headphone is how mixing in music can impact the headphone. Depending on the mix of the music this headphone can sound sibilant and treble harsh. But if it's mixed in a certain way the headphone will sound great. Also genres of music can affect the headphone similarly.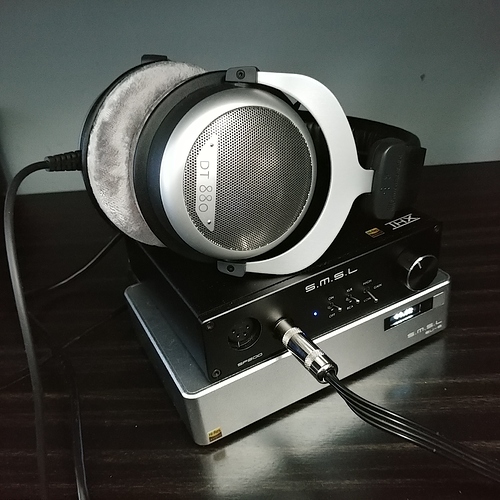 COMFORT
These are the most cozy comfortable headphones I've ever experienced. The pads are so nice and soft. Like if I was in a cold climate I might put these on instead of earmuffs. This along with the light clamp make these extremely comfortable headphones. Very lightweight.
BUILD
880's seem very well built. Seem to be mostly made of metal with a little plastic. I don't think these headphones will be breaking anytime soon. The headband seems to be made of plastic. Not sure how bendable they are. Cable is attached but fine. Its long at 9 inches. Wish all cables that come with headphones where at least 9 inches. Apparently longer than 10 inches will compromise the sound i hear. It comes with a case.
I really like it when a company includes a case or bag. The DT880 case is a thin pleather. The only thing that keeps its shape is the foam that comes inside it. I like how It's cheap but functional. They gave you something! Companies could offer something like this at least for their headphones. Some companies will charge you so much for a headphone and not give you anything. Even a cheap velvet bag would cost 1$ or 2$ to include with a headphone.
CONCLUSION
I'm not a big fan of this headphone. I don't get why DMS loves it so much. He just recently came out with the best headphones under 500$ and put this on it. I find it has too much treble, sibilant not enough body, and it's no good if the album or song is mixed a certain way. Not a good headphone to recommend to new people.
Scoring rating: 20$-300$ 7.0 / 300$-700$ 8.0 / 800-1000$'s 9.0 / 2000$'s and up 10.0
Word description grading: Poor, Mediocre, Fine, Good, Great, Exceptional, Phenomenal