**UPDATE: SOME MODELS HAVE THE MARKINGS FOR THE L/R CHANNELS REVERSED. INCLUDING WHITE AND RED ON RCA. THERE MAY BE NEWER REVISIONS WHERE A COLOR SWAP AND THE MARKINGS ON THE UNIT ARE REVERSED.
BUY FROM EBAY FOR 30 DAY MONEY BACK GUARANTEE - POSTAGE LABEL MUST BE PROVIDED BY SELLER
I HAVE HEARD OF ONE PERSON HAVING DISTORTION ISSUES**
This unit is available from various sellers, there are a few faulty versions. I would recommend not buying until the right version is marked as 100% functional.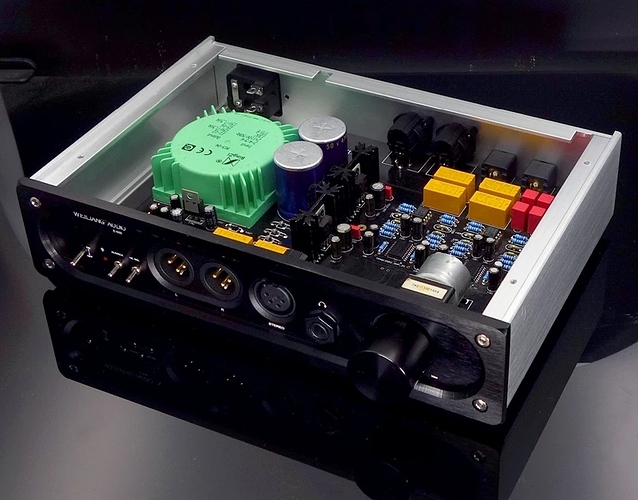 Fullly balanced input and balanced output
Truly balanced input and output For lower distortion and dynamics, as well as RCA input and 6.5mm headphone output.
Headphone amp output IC TPA6120 from TI
The output chip uses TPA6120, and the conversion rate is as high as 1300V/us. The IC is current negative feedback type amplifying circuit, Distortion is only 0.000001% THD+N , 120dB dynamic range, 120dB signal to noise ratio.
Strong driving ability with an output current up to 700mA. Can drive high impedance headphones. With a secure protection circuit design, two-way relay left and right channels to monitor two sound channels respectively.
Hifi Audio grade components and features
WIMA coupling capacitor
AUDIO filter capacitor
Japan ALPS potentiometer
15W Bingzi transformer
Heavy duty aluminum case
Balanced/ RCA analog input switch
High & low impedance headphone amplifier switch

Dimension and weight
Size: 250*167*54mm.
Net weight: 1.9kg.
Weight after packing: 2.7kg.

Optional Dual Operational Amplifiers
Version 1: JRC 5532DD
Version 2: MUSES 8920
Version 3: MUSES 02

---
First off it's larger than a Jotunheim. Second the specs are kind of confusing to read but to my ear it's putting out as much power or possibly more than a Jotunheim and LCX. Balanced and SE appears to have the same level of power, for instance on a T50RP 50% in high gain is almost too loud. I am using a decent entry level DAC like a Topping D10/30 and it's sounding great.
Pros:
Heavy Duty
Powerful (limitless)
SE as powerful as Balanced
Cheap for what it is
Easy to upgrade op-amps
Balanced in
Volume knob is metal (my bad it just needed tightening)
Cons:
Base level opamps (2) are average (can easily be upgraded with dual opamps like OPA2604, OPA2134)
XLR out on front for pre-amping