Wanted to try a set of buds and couldn't really go anywhere else but to @Rikudou_Goku to seek his advice on which of his sets would suit my library best - so a set of Saber 1 buds were on their way to me.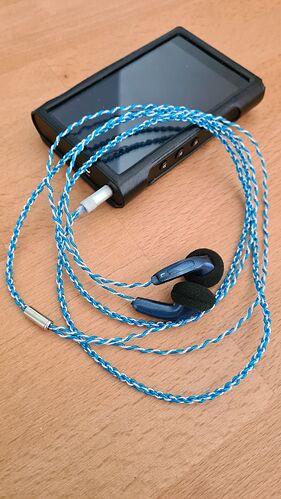 My rambling thoughts. Now I freely admit I had no idea what to expect from a quality set of buds (last set of buds I can't even remember using probably came with a mobile phone 15+ years ago), so I went in to this with some preconceptions/bias of what I thought these would sound like. This was largely based on something I thought would sound like a poor IEM seal - so a lack of bass - and due to the shape/fit would generally sound a bit recessed or remote - is best way I can describe it. (I have zero experience of headphones so have no reference in terms of closed vs open back either, not that I know if that would have provided any sort of comparison or not anyway

)
Yeah, I was very wrong. They have bass, and good quality bass in fact for the majority of my library. Sure I have listening volume turned higher than I do with IEMs but nothing sounds recessed or remote. Seriously surprised at how good they sound - and I mean that against the preconceptions I had before diving in. In fact how well they handle some of the harder/faster/complex stuff in my library I really wasn't expecting, although I don't really know why. Would they be my first choice for listening to this kind of stuff, good question and probably not - but maybe for some specific artists(?).
Do they have timbre - oh yes. And this is possibly also linked to soundstage although that's not something I will pretend I am any good at really picking up and I therefore don't really listen for anyway. How good does Alice In Chains MTV Unplugged sound though? I mean just really, really good. Acoustic music like this just sounds so right, even the odd discordant fret buzz. Older classic rock with a mix of acoustic guitars - eg Heart's Dreamboat Annie and Little Queen - really, really good. Would they be my first choice for music like this - all I can say is they're in my ears listening to AIC again as I type (

I have been guilty of kicking myself in the teeth

- great line).
Another plus point I find the fit really confortable - no issues having these in for hours.
My only niggle - the cable for me is too thin and feels a bit fragile, I'm a clumsy bastard so I can see myself breaking them if I'm not careful enough.
(also not a RikuBuds shill lol)