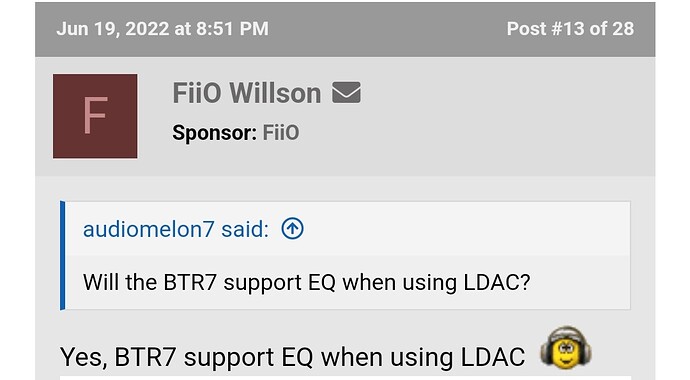 Headfi Link
And the EQ will work with LDAC now and USB connected I guess. Found it alway ridiculous they advertise with LDAC, USB DAC and EQ just to find out EQ only works with Aptx HD or lower. Thought they might fix it with an update but No they didn't.
Hope they allow more than 1 user preset now and no automatic fixed negative preamp after activating the EQ. The btr5 lost quite some volume even if you just wanted to cut some frequencies.
On headfi they also say it has a special button for turning on/off the charge function (one click dongle mode). Not sure if they couldn't have used that button for more useful things.
Hifigo lists it for pre-order now.
I think that button is really useful. When I want to use my BTR5 wired I always have to click through the menu on that small screen to turn off charging
Hmm. I'm wondering if the really sarcastic email I sent Topping asking if they ever plan on releasing an amp for people that actually listen to music and don't just read SINAD graphs struck a nerve lol. Their reply was quite terse and defensive lol.
Why are good measuring amps not good for music?
I've never had clearer and better sound quality than with my Topping A30 Pro
I mean they're fine, they just don't have very good control and it usually shows up on planars in the loose bass and occasional treble peaks out of nowhere, lack of soundstage size and depth, and to some degree separation. I tried really hard to like the A90, but my most commonly used headphones are the HE6se v2 and it doesn't come close to controlling them so I ended up just giving it to my buddy with easier to drive headphones. I'll be clear, I don't hate it, just that it doesn't mesh with everything and I do like a lot about it but it's just a tad unnatural sounding and lacks the current for planars. I actually liked the A30 Pro more than every other Topping amp. I think I'm overly picky about timing and bass and sloppy bass is something I can't ignore no matter how hard I try.
Discrete design the big news here. I'm actually curious to see the whole range of reviews on this, could be an important moment.
Hello, I don't know if I'm in the right place… I recently got Cambridge M200, and I tried a headphone with the FiiO M11+ source, which sent the sound in Bluetooth to the DAC, and I had a violent cracking twice. Can it be due to a Bluetooth cut? otherwise from the PC no worries. I also unchecked the "safe" mode, maybe it is better to check it? otherwise in latency I put 256; I do not know if the settings are good? Thank you in advance for your answers, and if I have to move this message, tell me, thank you again!!
I mean, Amir even said as an addon to his review "incredible bass, detail and fidelity" over the regular A90 using the DCA Stealth. Maybe they figured it out finally. I do think Topping is capable of serious refinement if they let go of pushing SINAD numbers but I am skeptical of their first attempt. Nobody bats an eye with something like Benchmark having great SINAD but it's because they don't suck lol.
Just read the ASR. A pleasure to see Amir submit 1 degree of SINAD for an actual subjective note and improvement. Perhaps a real moment of change. How loud does that man listen?..
95ish but I'm convinced the only thing he listens to is sine wave sweeps to help him fall asleep.
Yikes that sounds scary. I am not familiar with the Cambridge M200, but maybe someone else is. Also when PCs connect they always tend to do so at 100 volume, so I always pause audio output, connect, then turn the volume down, and then resume play back.
I could easily be Bluetooth, which has a very short range. The stated range is usually 30 feet, but I find that things like refrigerators, AC, or other nearby appliances can reduce that range.
That's literally what we talked about 5 messages above
Just gonna drop another reddit steal here.
7hz x Crinacle collaboration for an planar IEM. Looks like it adopted the beyer peak.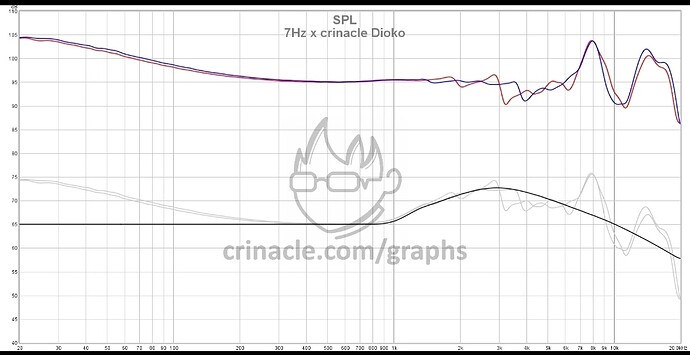 Wanted to get the Aria Snow but now that the 7Hz are announced I'm not so sure anymore
that is a very interesting frequency chart. looks like the bass might overwhelm the high end though.