This is gonna be a long post because I'm gonna try and put in as much relevant information as I can but I'll try my best to keep it structured and succinct. I'll start with as much relevant information I can think of before getting to the actual meat of it.
Setup:
TV: 55inch 4k Sceptre LCD
Receiver: Denon AVR X2000 connected as 6.2 channels
Fronts: Klipsch R-14M
Subwoofers: Left-Klipsch R10SW / Right-Polk PSW10
Surround Sides: Velodyne CHTSBV
Surround Backs: Sony SS-B1000
Fronts are on speaker stands, surrounds are all mounted 1ft from the ceiling pointing down at a 45° angle towards listening position.
Usage Scenarios:
At this point I actually use the set up about evenly for music, movies and gaming but I know it could never be set up perfectly for all 3 use cases so if I had to choose i'd prioritize movies with music being an extremely close second, followed by gaming. (although, of course, it has to at least perform decently for all three) All of the content I utilize is through streaming services, Tidal for FLAC quality music, but sadly just amazon video, Netflix, Disney+ for movies and shows. The only way I get 7 channel sound (not including the built in surround virtualization modes) is by using Netflix or Disney+ Windows 10 apps that support dolby atmos playback, and using the dolby access app to enable dolby atmos on my pc, which tricks the streaming services into thinking I have atmos capability, and then by the time that data gets sent to my receiver it just decodes the 7 channel track and does nothing with the atmos metadata. I use a firestick 4k connected to a HDCP 2.2 compliant HDMI splitter running to the TV and AVR separately, as well as my gaming laptop connected the same way but instead of a splitter both HDMI's run directly from the laptop
Layout: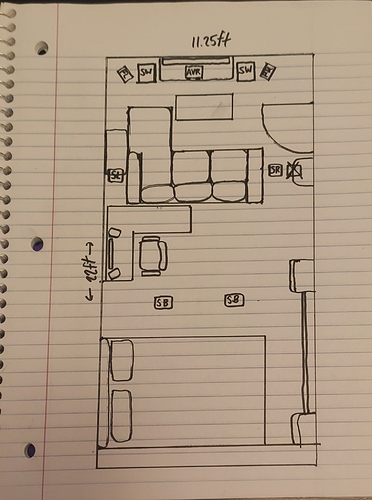 (I forgot to add it in the sketch, but there is one 5' x 2' window behind the bedhead)
My room is L:21ft x W:11.25ft x H:8ft
Causes for concern/Potential problem areas:
Acoustics & Calibration
Acoustically the room is fuckin shit, what it comes down to is that this room is built into the back corner of a very large very tall 4 door garage which is on a concrete slab, but it is free standing and the walls are all just bare corrugated metal sheet, like a tin roof, which it also has. Now my room is properly built the way you'd expect any room in a house to be, plasterboard walls, carpeted, insulated, etc. Problem is, the wall that the desk is against, and the wall that the TV is against, are both only a few inches of insulation away from corrugated metal, so I feel like that definitely has something to do with why this room still has echo. I've got a large fluffy rug under the surround backs, some cheap foam acoustic diffusion panels on the TV wall, curtains over the window.
I've recently purchased the Audyssey ACM1HB calibration mic which will arrive on Friday and im hoping that will make a significant impact on the overall sound of this system. But up until then, Its been running on the manual set up I did, but since I don't have an actual sound pressure meter, I used a dB meter app on my phone to match all the tones (im sure its way off, but I figured its still closer than what i'd be able to get with just my ears)
Subwoofer situation
Originally when I was running one sub I did the subwoofer crawl and it came down to the subwoofer being in the left corner next to the TV, but now I run "stereo" subs because one 10 inch just doesn't cut it, Im really hoping to replace the Polk with a matching Klipsch, because there just seems to be too much inconsistency with the subs, one track would have barely any low end and then the next track would knock my fuckin lamp off its shelf, I get that would be expected with differences in types of music, but it happens between episodes of a TV show too, and even when I'm gaming, it just like there's either not enough low end or its way too much and sounds muddy, overbearing. I only feel like the subs are ever just right on rare occasions, and even then, those occasions tend to just be a very bass heavy track to begin with. The Klipsch is rear ported but it has enough space behind it to where it doesn't chuff. I never go past half gain on the Klipsch, and even less on the Polk because that just gets real noisy and muddy. At this point I've messed around with so many different combinations of gain/crossover frequency/sub level/tone adjustment settings that I've just lost track of what I should even be doing anymore. I think the crossover is currently set to 120hz, but it varies from 120hz-200hz depending on if it bothers me enough, but I find that range to give the most natural balance between the sound between the subs and fronts.
Conclusion:
At this point I've raised two areas that I personally think have an effect on the enjoyment of my system, but as I've expressed I'm not completely sure how to remedy them or that how I plan to remedy them will even be the right course of action/make the difference I'm looking for.
So what do you guys think?
Am I looking in the complete wrong direction?
One last point i'll mention is that this whole set up was built on a very tight budget, everything was bought in used condition, my surround backs and the tv stand were actually free, I built the ceiling mounts and coffee table myself, the couch was already here, this whole build cost me no more than $300 but in actuality I traded up for a lot of it too, so it really started with about a $50 out of pocket initial investment, the reason I did that is because I have no idea how long I'm gonna be staying here and at some point, I will most likely have to sell it all. This is also why I exclusively use streaming services, BD's just aren't an option for me. I put this right at the end so that to those who may potentially reply to my post, will hopefully leave the suggestion that involve spending a lot of money, till last.
Thank you to anyone who took the time to read through my whole post, I appreciate all the help I can get.