Nope, but it's on my bucket list. I've been hunting some bourbons lately
Never had it. Do me a favor and come back here and give me/us a little rundown on how you like it.


Happy drinkin'!
Tried it with the stainless steel cubes I bought. Incredibly interesting. Especially for such a cheap scotch. Smooth, only a slight burn from the alcohol content. Just a hint of fruit and a nice, toasty aftertaste. Don't know how much is due to the stainless cubes chilling the drink, and how much is the scotch, but not bad. Given the price, it's worth giving a shot.
Sounds like I need to pick up a bottle next time I'm out buying. I've never used stainless cubes before. Did they manage to keep the glass chilled for a reasonable amount of time? I have used glass cubes before, but most of the time I drink my scotch neat. When I did use the glass ones, they seemed to take longer to chill the drink than regular ice, but, of course, they don't water it down so I guess that's the tradeoff.

BTW, did you just find that at your neighborhood liquor store or did you go to a specialty whisky/bottle shop?
I've tried soap stone cubes and the stainless steel cubes. The stone ones work if you want to chill a little without diluting the drink. The stainless steel ones have a fluid inside that freezes. It definitely gets colder and lasts longer. Hell, even after letting them sit after finishing the drink, they were still cold.
I picked it up at Speck's, as I was already there to snag the stainless steel cubes, plus it was cheap.
Neat is the way to go with scotch. I don't mess with anything that will change the character or flavah! I have tried these chilled cubes with whiskey, and they work pretty well.
IMO neat is the way to go with all whiskeys, especially with lower ABVs. With barrel proofs and such, you don't dilute it as much, so maybe you can get a way with a nice ice cube, preferably a clear one, if you can make it. But at the end of the day it's personal preference. I myself haven't used stones or other types of cubes, I've tried adding a few drops of water to some spicier ones and to bring the taste out, but I didn't like that either.
In other news, I decided to add another bottle to my collection, looking forward to trying it.

prune juice mixed with Sprite.
My boss' husband has been suggesting that. May pick up a bottle next week along with a bottle of Jameson Cold Brew.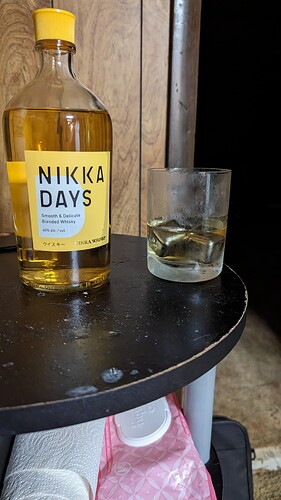 Picked this up today.
Definitely recommend, it's very smooth, doesn't burn and has a lot of nice bourbon flavors for it's ABV. Used it as a warm up pour last week for Wild Turkey Rare Breed and I think it will pair nicely with a good cigar
Too bad I quit smoking tobacco, not that I'll ever touch the devil's lettuce.
Tbh my favorite drink to pair with cigars is bourbon. I have quit all other sources of nicotine except for cigars and I don't smoke that often, but smoking a stick with it isn't a must.
Earlier some of you were debating Monkey Shoulder. For a blended Scotch at a lower price, it's fantastic. But it's not much beyond those specific settings. Think of it in audio themes. Great at a low price, but blended scotches aren't generally considered high end. Just saying. And btw, I like Monkey Shoulder for what it is.
Now then, I just bought a bottle of this.

Never had anything from Elijah Crag before. And can say worth the price. I'm old, and realisticlistlally can't drink like I used to. So I have become picky. The collector inside me was craving something new, so this is where I went. Now that I cracked it open, and will get beyond the neck pour, I'll get into it a little more tomorrow and see what I think. But like I said, first impressions were quite good.
ECBP is an absolute flavor bomb, I have a C921. I have about 1/5 left maybe and I'm babying it big time. As far as BPs go Jack Daniel's Single Barrel Barrel Proof is also supposed to be really good and it's definitely on my to buy list.
There are some higher end blended scotches like House of Hazelwood. Haven't tried them, most of their bottles are out of my budget, I think the cheapest one is something like 70$
I'm sipping a godfather cocktail with 1.5oz of Wiser's 18 and .5oz of Disaronno Amaretto.