looks beautiful! would love some in the future
nice, gotta have LDAC for bluetooth for sure. I had another codec that sucked and music sounded a bit too compressed, almost dirty. LDAC is the truth tho
Won the bid for the fluance SX6 in the yard sale this month, just arrived today!
I just ordered a pair of the Nighthawk Carbon's, folks talking about this "interesting" sound signature and the reasonable sale price got the better of me. Now I wanna hear what "interesting" sounds like.
I just bought a demo set of Fostex TH-610's. Have to see in the morning if they still have them and ship out.
Really cheap, but they have been around for quite a while and have a knick in one cup. I paid $375.00 (Canadian money).
I have always been curious about Fostex, but the 900 series is crazy expensive. If I am not overly thrilled, I might send them down to Lawton to get "Lawtonized".

From Headphone bar? If so that is a great place. Just up the street from me. Congrats.
Just ordered a custom cable from skyaudiocables off of ebay. It's a 4 strand litz cable with the main color being black and the secondary colors being blue and lilac of similar brightness intensity. Should be quite pretty.

Congrats! I love my SX6s.
I actually got the INAIRS because they were cheaper than comply or dekoni. Which cost even more

Ended up using the Okuli more, they seem to fit better. Also got 6 pairs for the same money, and a plastic case.
Well, curious to get your take on them lol
Nice, they are pretty great

I have decided to buy some new SpinFits, but this time for my BLON BL-03s and I still have some money left.

Yes it was. I bought my Meze 99 Classic's from them too.
They also have their new TH-610's on sale too.
Really curious to compare them to the Meze 99's.
Also curious to see how you think they compare lol, could be pretty interesting
It might be very interesting. In Canada the regular list for 99's is $399.00 and the 610's is $799.99.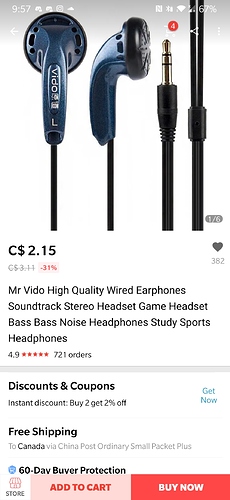 Got recc'd these by a guy . He insisted they sounded amazing. Have low expectations but costs a lil more than a toonie so fuck it
What do you think meze 99 classics? For $400 CAD. Or noirs for roughly $250 cad?
The niors are celestially the 99 classics but with a different color scheme. They sound real close imo
Noirs it is
20 char minimum