This thread seeks to explain the different amplifier classes in a fashion so you can make a qualified decision about what your application requires.
Contents
Overview of the amp classes
Detailed explanation
Bi-Amping, Bridged- & Parallel Amplifier
TL;DR
---
Classes overview:
Class
Construction
Advantages
Disadvantages
Class A
Single transistor, full-cycle operation
- Very high gain possible
- low distortion
- low efficency
- Requires clean power supply
Class B
Double transistor push-pull, semi-cylce operation
- Higher efficency than class A
- Crossover-distortion possible
Class AB
Double transistor, more-than half-cycle operation
- Improved efficency over Class A or B
- Crossover distortion cancels out
- Inefficent at high output power
Class G
Class H
Variable Supply Serial transistors
- Higher output power than Class AB
- Higher Efficency than Class AB
- Complex circuit
Class D
PWM modulated Transistor or MOSFET
- Very high efficency
- Lightweight
- Requires extensive filtering
- signal/noise ratio is load dependant
- low PWM frequency causes signal degradation
---
In Detail:
Abbreviations:
Vin - Signal input
Vout - Signal output
Vcc - Power Source, the + or - indicate power relative to Ground
Gnd/0v - Ground, 0 Volts
R - Resistor
Q / T - Transistor
C - Capacitor
D - Diode
---
Transistors
A transistor:
C - Collector, input side
B - Base, controll
E - Emmiter, output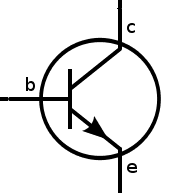 Just like a valve, it does not matter if you have the waterwheel before of after the valve.
The Current flowing from the Base to the Emitter enables a current to flow from the Collector to the Emitter.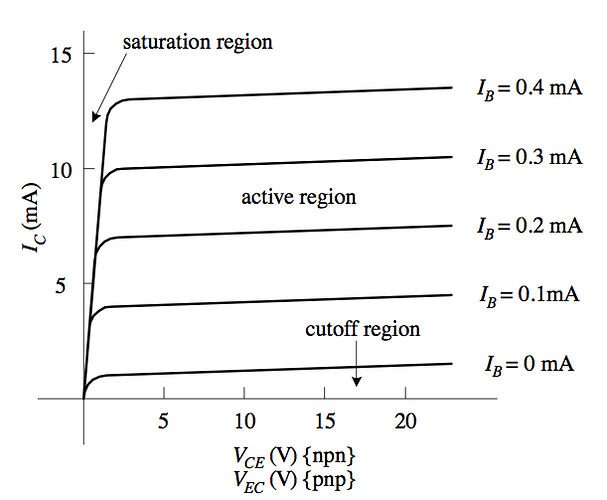 For an amplifier, we want the transistor to regulate the flow, not just open and close. It does that, but only in the "saturation region".
---
Class A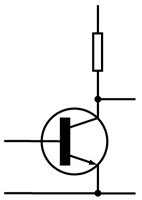 In a Class A amplifier, the input current is directly proportional to the output voltage of the transistor. Due to the transistor curve, the internal resistance is high during most of the operation causing high thermal losses (= low efficency).
---
Class B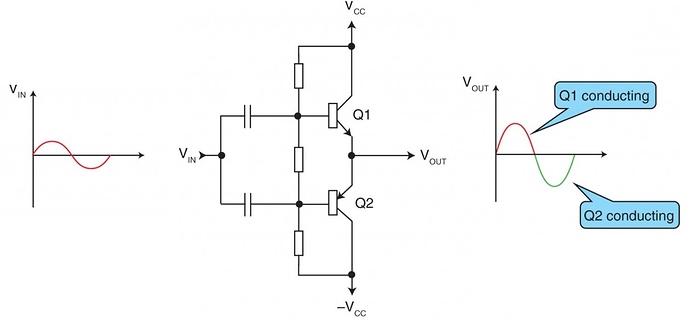 Class B is similar to Class A, just that instead of one transistor doing all the work, it uses two transistors in push-pull. As each does only half the work, each is closser to their sweet-spot more often.
Each transistor still sees the complete input signal causing distortion.
---
Class AB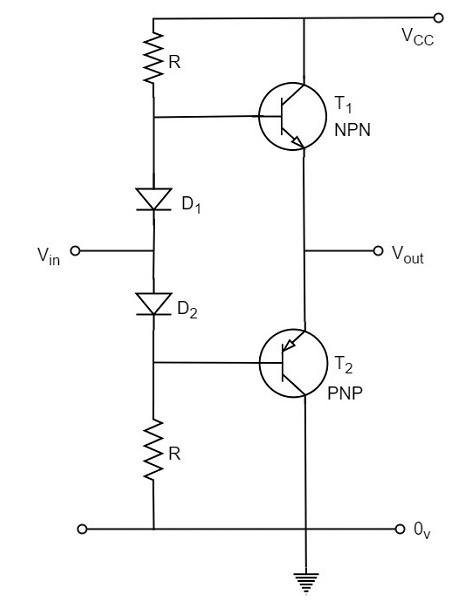 Class AB adds diodes before the transistors. Diodes only allow current to flow in one direction. This way the transistors only work when the other does not.
This eliminates the potential for distortion of Class B.
---
Class G & Glass H
Often mentioned together because they are the same concept, namely modulating the supply rail depending on output power requested, they are implemented differently.
This "modulated supply"-approach greatly improves efficency and available output power over Class A/B/AB.
To achieve this, multiple supply rails are used.
Class G: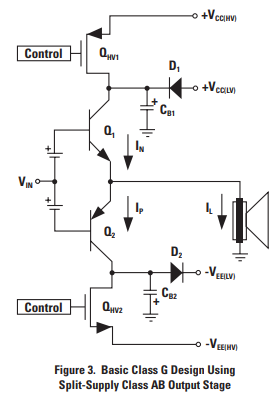 Class G Amplifier are very similar to Class AB, they add a higher voltage power supply they switch in depending on the amplitudes of Vin and desired volume.
Class H: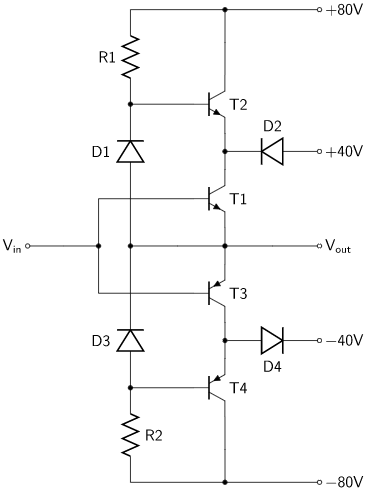 At low amplitudes, only T2 and T3 are active, the amplifier works as a Class A.
At higher amplitudes, D1 and D3 become conductive switching on Q1 and Q4, the amplfier "stacks" more power on top.
The Diodes D2 and D4 prevent backfeeding voltage into the +40V or -40V power supply.
---
Class D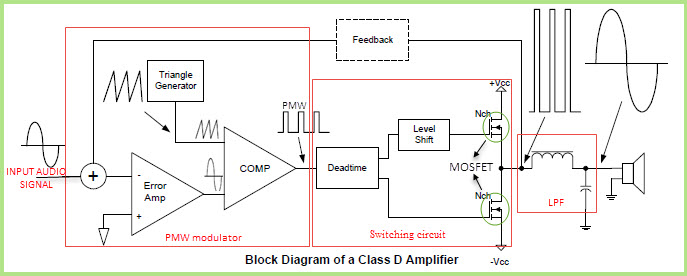 In a Class D amplifier, a clock signal and Vin turn on Transistors or MOSFETs. As the supply voltage to the switching element on trigger is always out of the saturation region, switching losses are minimized.
The resulting PWM signal is then smoothed using low-pass filters and inductors to approximate a sine-wave.
---
Bi-Amping, Bridged- & Parallel Amplifier
Bi-Amping
Several amplifiers in paralel
– scales liner with power
– signal to noise gets worse with every added amplifier
One Amp per frequency
– Frequency splitter before amplification
– Tuned amplifiers depending on application
Bridged Amplification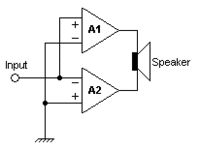 In bridged amplification (or "bridged mode"), the amplifier essentially works in push-pull. This way the available voltage increases the power to a theoretical double.
Parallel Amplification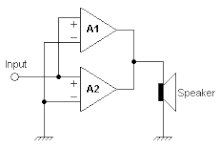 In parallel amplification, the available current is doubled. This setup is usefull when driving very low resistance speakers.
The danger is in backfeeding the "weaker" (= lower output offset) amplifier with voltage.
---
TL;DR
| Amplifier Class | Signal/Noise | Distortion | Crosstalk | Efficiency | Complexity | Power |
| --- | --- | --- | --- | --- | --- | --- |
| Class A | | | | | | |
| Class B | | | | | | |
| Class AB | | | | | | |
| Class G | | | | | | |
| Class H | | | | | | |
| Class D | / | | | | | |